Lagoon Escapade 2018 – memories to last a lifetime
With Lagoons sailing in from all around Australia, and Lagoon families and a representative from the Lagoon factory joining us from the other side of the world…The Multihull Group's annual Lagoon Escapade Whitsunday Islands just keeps growing from strength to strength!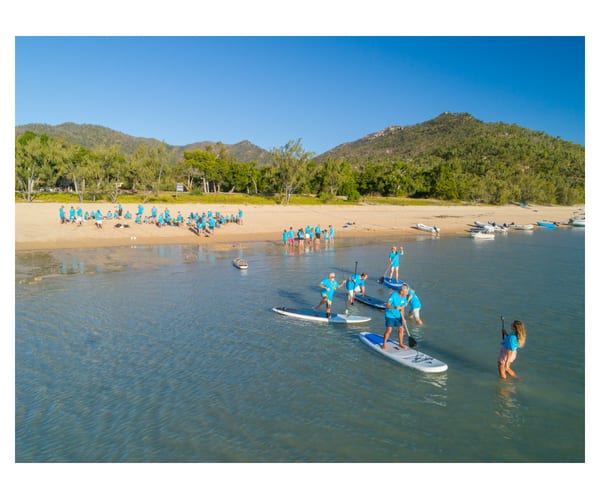 The world's largest Lagoon Escapade
Our TMG family of Lagoon lovers are so passionate about these beautiful boats that our Whitsunday Islands Escapade has already become the world's largest Lagoon Escapade in only its third year!
This year, Rowan, Peter and the team from TMG welcomed over 60 people on 17 Lagoons to Australia's premier sailing destination, the Whitsunday Islands.
We even like to kick things off a day earlier! It's become an unofficial tradition for some of our most passionate Goonies to host their very own 'pre-escapade' cocktail party the night before the official Lagoon Escapade officially begins. 
And although "what goes on in the Whitsundays, stays in the Whitsundays", here's how the third Whitsundays Lagoon Escapade went down.
The pre-escapade cocktail party
On Wednesday night, Greg and Sue Harding's Lagoon 440 'Blue Pointer' and Paul and Kathryn's amazing 450F, 'Moor R&R', were the places to be as once again Greg, Sue, Paul and Kathryn hosted the pre-escapade cocktail party.
With an incredible 59 people on board the Moor R&R at one stage, it proves just how roomy the Lagoon 450 really is.
Paul and Kathryn had spent the entire day preparing, cooking and decorating Moor R&R to kick off the Lagoon Escapade in the style our Goonies have grown accustomed to, and they certainly spoiled us all, with a fabulous night to remember – or not – depending on how many of the special Blue cocktails our Goonies consumed!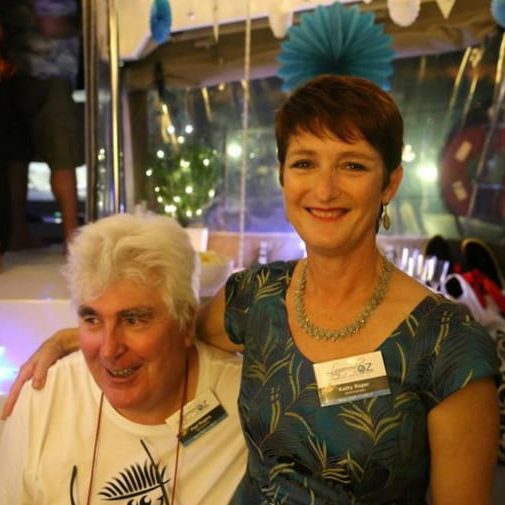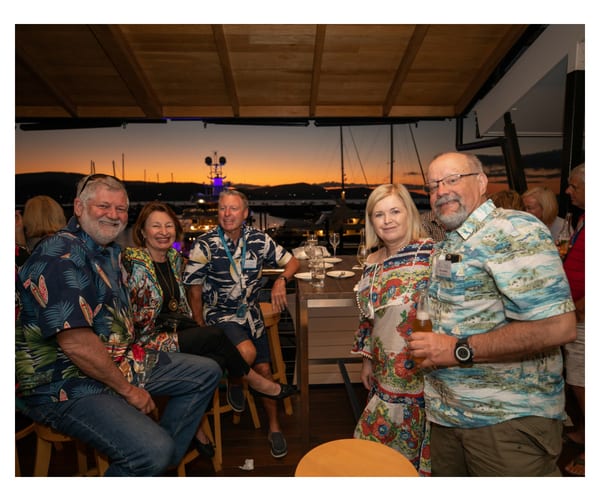 Enjoying the spectacular sunset from the Lure Lounge
Luckily, the official start of the Escapade was the following afternoon, giving everyone plenty of time to recover from the night before.
All the attendees gathered at Abell Point Marina to be welcomed by the team from TMG. Rowan McMahon, Queensland State Manager, and Peter Hrones, Director, handed out the Escapade swag bags containing the quintessential aqua blue gear, including T-shirts, embroidered Lagoon towels and the infamous Lagoon Escapade aqua sunglasses.
Everyone took in the spectacular sunset from the Lure Lounge, where TMG and Abell Point Marinas hosted an evening function, providing our Goonies with another chance to socialise whilst enjoying welcome drinks and canapes. Lucky door prizes were kindly donated by Club Marine and Lagoon Catamarans.
Breakfast delivered to the boats
The morning of the 27th July saw coffee, French pastries and newspapers personally delivered to all the boats by Peter Hrones, who was looking resplendent in his red beret!
After breakfast, all 17 boats departed the marina in perfect formation to sail 26 miles north in single file through the passage to the breathtaking Cape Gloucester Eco Resort.
With Huey the weather god delivering endless sunshine and champagne sailing conditions for the four-hour sail, our Goonies once again enjoyed the very best of Australian cruising.
On arrival at Cape Gloucester Eco Resort, we all dropped anchor and headed onto the beach, ready for the spectacular Yoti/BoatWorks beach party to get underway.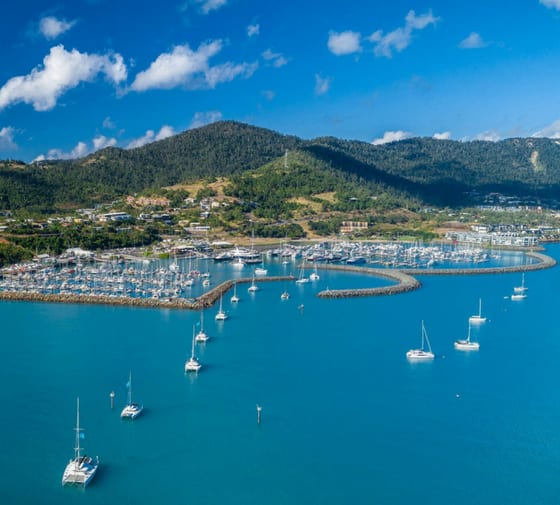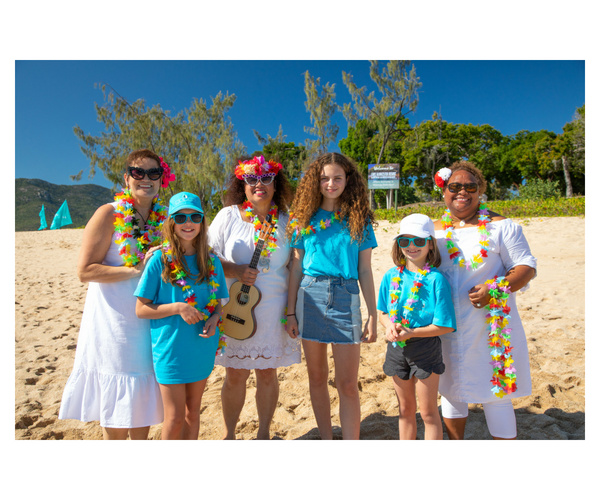 Lagoon lovers from around the world
All our wonderful attendees were greeted as they stepped out of their dinghies on the beach by Local Airlie Beach Ukulele band 'Island Rhythm' and presented with Hawaiian leis. Later, the Island Rhythm band played some great music in the resort area, getting everyone up and dancing.
David and Judy Hope on their Lagoon 380 'White Hawk' came all the way from Cairns just for this event. Determined to join the group, David sailed into 25 knots southerly, only to turn around and head north after the event. David and Judy loved the Lagoon Escapade and will be back next year for sure.
Our paddleboard race was won by Paul Bennett who joined us all the way from the USA! Paul, his wife Lani and their three children are sailing their Lagoon 500 'Dafne' around Australia before embarking on a world tour and we were thrilled they could join our 2018 Whitsundays Lagoon Escapade.
Eat, drink, paddle, get wet … and repeat
TMG's full schedule of fun activities was embraced by young and old, with everybody participating in the beach games.
Greg Harding won extra points for being the safest paddle boarder, even though the inflatable life jacket he wore as a joke went off when he fell in the water!
It was also fantastic to have Christoph De Kerdrel from the Lagoon factory join us, providing the opportunity for owners to give feedback directly to Lagoon as well as to hear firsthand about exciting new developments on the horizon for Lagoon.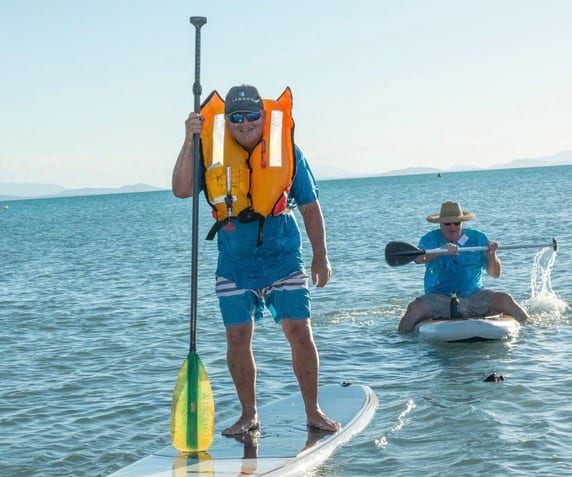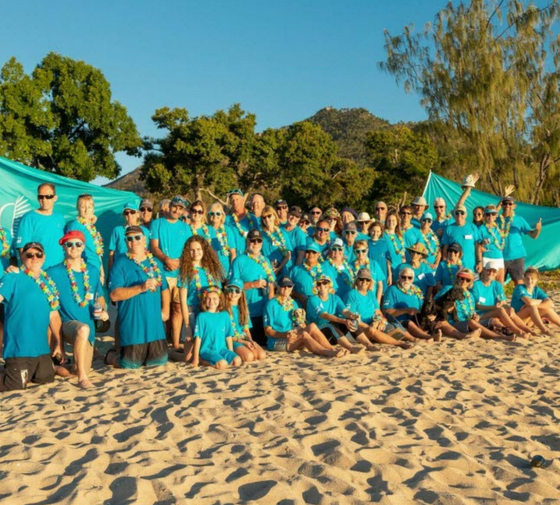 New friends and amazing memories
Lagoon owners young and old, brought together by their shared love of Lagoon catamarans, joined us at the Lagoon Escapade this year and everybody left with new friends, amazing memories and plenty of prizes!
Club Marine $500 insurance vouchers went to Geoff King on 'Blue Glass' and the Lagoon 630 'Enchantress', while the embroidered Lagoon towels were a big hit with everybody.
Mark Rolle from Lagoon 500 '3 Little Birds' won a $1000 gift voucher for detailing his boat with Sea Spray.
Ultra Marine donated some wonderful prizes from their Lifestyle range and the Lagoon clothing, jackets, shirts and hats that were given out are all available at Quality Marine Clothing.
Join us at our next Whitsunday Lagoon Escapade
TMG and Lagoon Catamarans would like to give a big shout out to our wonderful sponsors who make this fabulous event possible: Abell Point Marinas Lure Lounge, Cape Gloucester Resort, Club Marine, Ultra Marine, Seven Star Yacht Transport, The Boat Works, Signature Yacht Services, Yoti and Lagoon Affordable Antifouling.
With the sun barely set on yet another superb Lagoon Escapade, our Goonies were already talking about the next Whitsunday Lagoon Escapade, to be held in July 2019.
Exact dates will be announced very soon – will you be joining us to make new friends and amazing memories?
To see all the fab photos from the 2018 Escapade, click the link below:
Lagoon Escapade 2018 Photos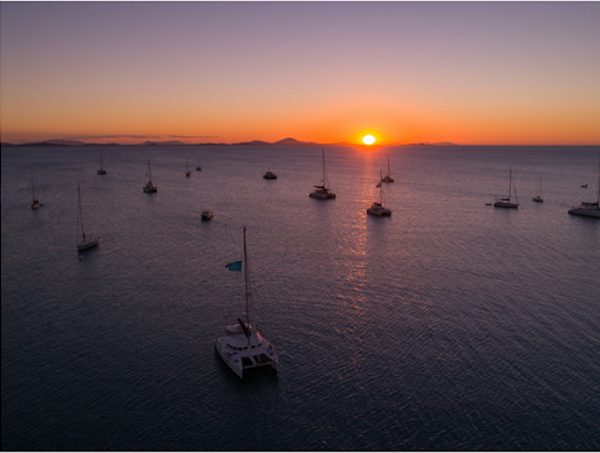 "It was a great event! How good were these girls!! What a nice touch being welcomed on the beach with music and leis!! Fabulous choice of music too! Lagoon escapade magic! Thank you, TMG for making it happen…was great fun!" Kathryn Roper
"Such a great time. Well done everyone. Thanks for another awesome get-together." Sue Harding
"We live and sail in paradise! Awesome!!!" David Lee
"Seriously great to see so many so passionate about their boats. Another fantastic event hosted by TMG." Greg Harding
"Fabulous time!" Craig McEwan
"A great event, well done!" Del McEwan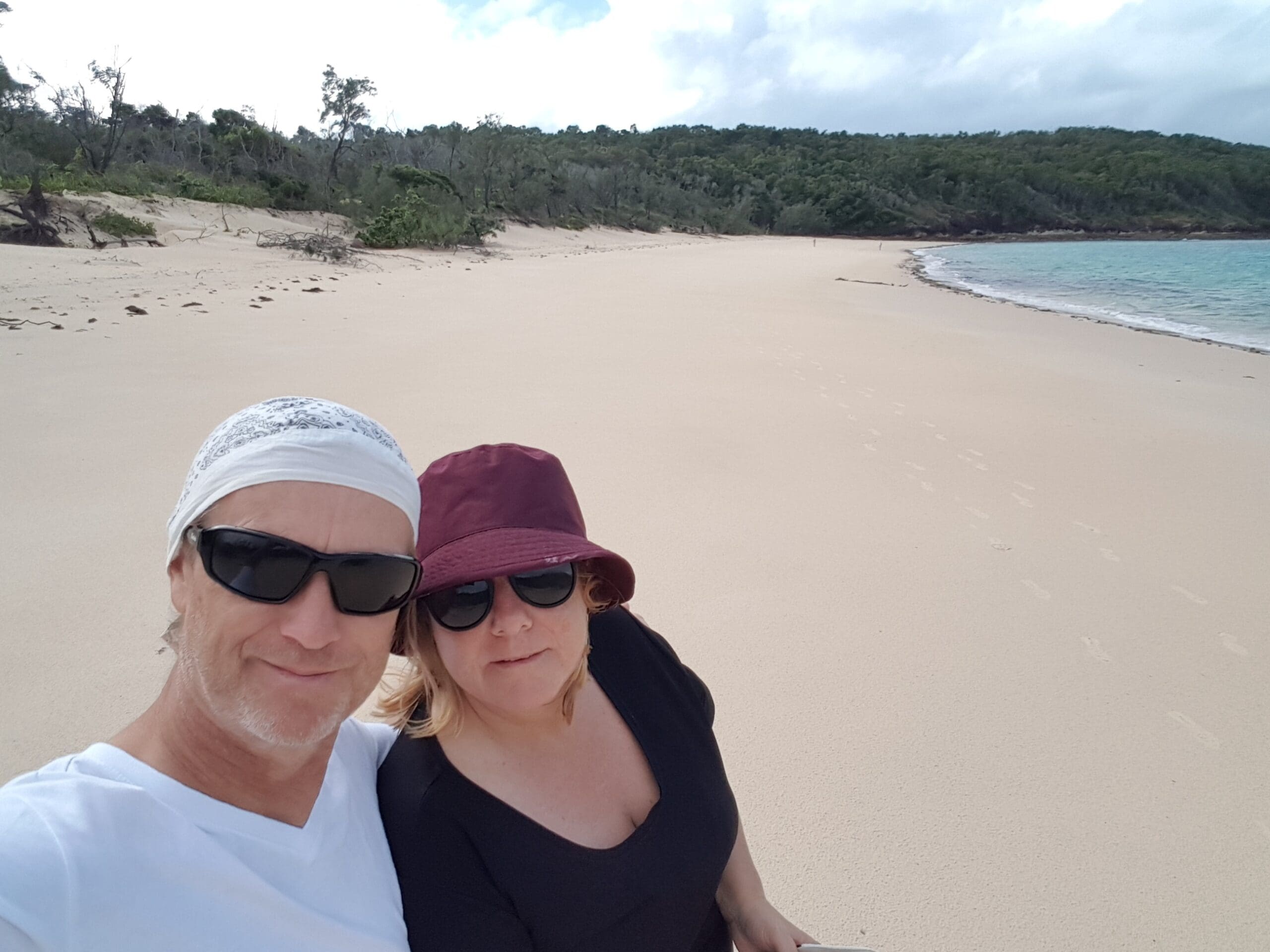 Buying a catamaran and deciding to wrap up your life on land to sail the world is a life-changing decision, one made a little harder when caught up amongst the pandemic and uncertainty it caused.
So we turned to new Lagoon owners Ian and Jackie who put together an incredible story to give you the reality of what this experience was really like for them.
read more