LAGOON ESCAPADE 2017 – HIGHLIGHTS AND HIGH JINKS!
The team from the Multihull Group is still buzzing after bringing together 23 Lagoon owners with their families and crew, at the world's largest Lagoon Escapade. Held at Australia's premier sailing destination, the Whitsunday Islands, the now annual event was 2 days of fun and frolics on and off the water.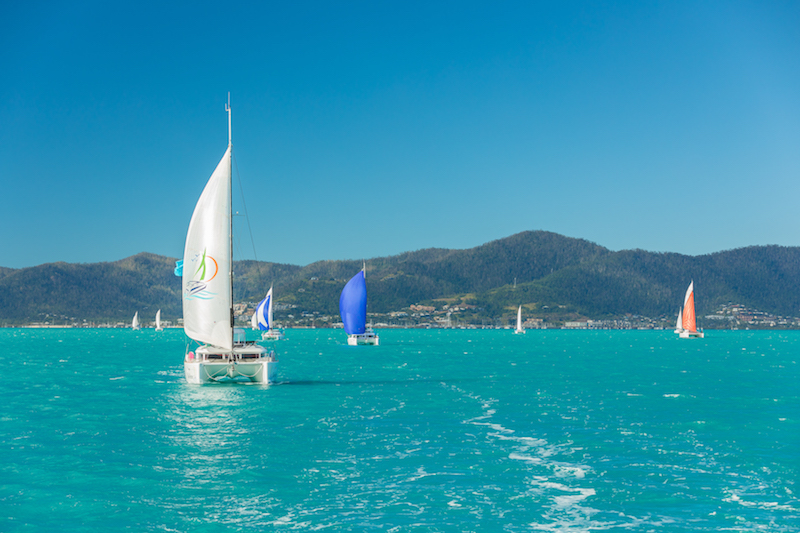 The sun shone from start to finish on this year's Escapade. John and the team from TMG, joined by Rowan McMahon, Queensland State Manager, Steve Austin from Yoti Multihull, and Kirsten Gillies flew up with goody bags in hand. Their first stop was for warm-up cocktails onboard Paul and Cathy's amazing 450F, Moor RnR. Up to 50 excited Lagoon lovers had a fabulous evening, with Steve Plum's Clear Horizons making itself available as a canapés kitchen. And if they felt spoilt on their first evening, that was just a taste of what was to come.
All the attendees gathered the next day at Abell Point Marina on berths. Welcomed by the team from TMG, they received their swag bags, including the now notorious aqua blue sunglasses. The group then met in the evening at Hemingways on the waterfront at Abel Point Marina, for welcome drinks and prizes put on by TMG and Abell Point Marina. Lucky door prizes were kindly provided by Club Marine and Lagoon Catamarans.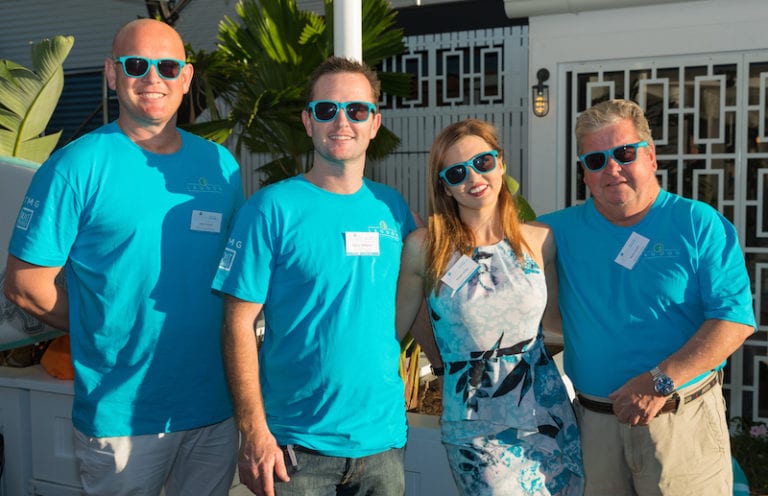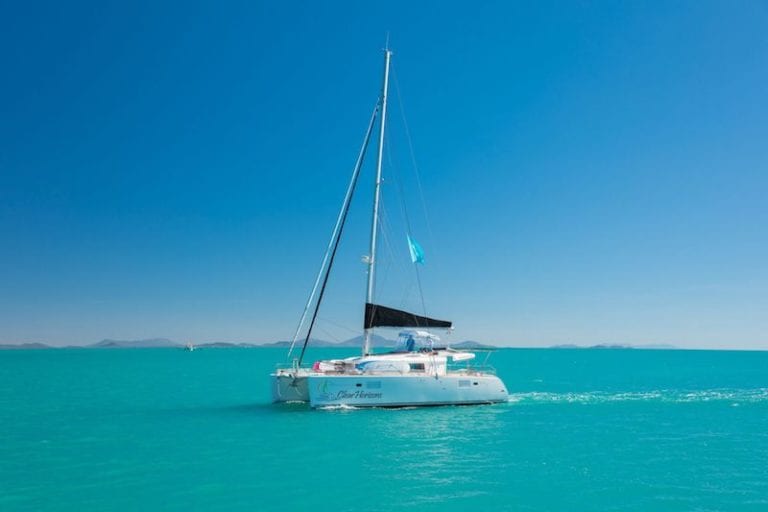 The following day, early risers enjoyed a scrumptious breakfast overlooking the marina, generously provided by Seven Star Yacht Transport. After a briefing from TMG, the cats mustered at the break water. They then sailed in company for the spectacular 4 hour cruise to the Cape Gloucester Beach Resort. With champagne sailing conditions all the way, 'Goonies' enjoyed the very best of Australian cruising.
At Cape Gloucester, TMG had a full schedule of fun prepared and the Yoti/BoatWorks beach party got under way. Lagoon owners young and old participated in the beach games, with Toss the Beret to win a bottle of Moet Chandon proving popular. Super dad Nick from Katsumi, eagerly cheered on by his family, was victorious in the highly anticipated paddle board race. He walked away with a brand new paddle board provided by TMG. The day ended with a fantastic dinner from the team at Cape Gloucester Beach Resort.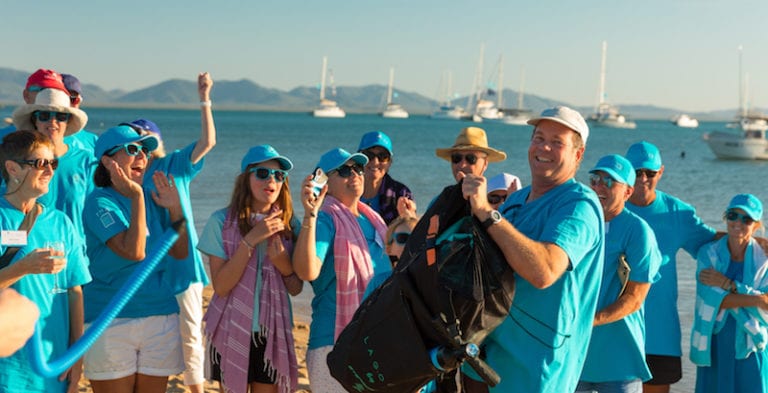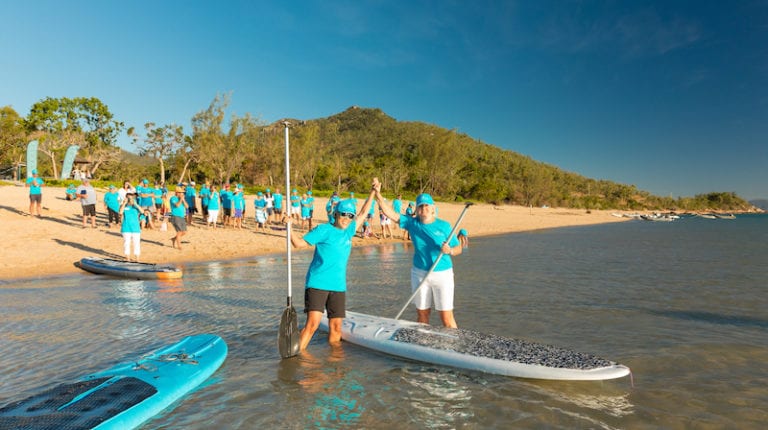 Owners getting together from all walks of life is what the Lagoon Escapade is all about. This year saw live-aboards, young people, families, kids and couples joining the fun. A great group of people brought together by their shared love of Lagoon catamarans and cruising, in one of the world's most incredible locations.
An altogether awesome event finished up with a picture perfect sunset over stunning Gloucester passage, with thoughts of Escapade 2018 already in people's minds. Dates will be announced very soon – will you be there?
"Well the 2017 Australian Lagoon Escapade has finished for this year. What an absolute brilliant event. 19 Lagoon Catamarans and from what I hear 70 odd people in attendance. Nineteen Lagoons leaving Abell Point Marina line astern was a sight to behold before sails were set for the journey to Cape Gloucester Beach Resort. A huge thank you to the group from TMG, Abell Point Marina, Seven Seas boat Transport, Boatworks and Yoti. It was an outstanding success. A big thank-you to Paul and Kathryn from Moor R & R and Steve and Audra from Clear Horizons for the huge effort in the lead-up to this event. To all involved it was very much appreciated", Greg Harding, Sunshine.
"The end of a brilliant event. As Greg said without the support of TMG, Able Point Marina, Seven Seas boat Transport, Boatworks, Club Marine and Yoti. It would not happen. I also believe a big thank you should be extended to all the crews that came with their Lagoons, just to have a bit of fun in the sun. It could never happen without you. Cheers to you all and hope to catch up soon out on the water somewhere", Paul Rogers, Moor RnR.
"Just wanted to say how awesome it was to meet everyone over the last few days. Such a cool group of people all with similar passions. Thank you all for your friendliness, hospitality and good spirit! It certainly was a pleasure to meet you all and we look forward to seeing you again out on the water. Cheers!", Lyndy Atkinson, Katsumi.
"Loved meeting you all and hope to catch up at next year's escapade if not sooner!" Nerida Lee, Seabreeze.
And to see all the fab photos from the Escapade, click the links below:
Lagoon Escapade 2017 Photos 1
Lagoon Escapade 2017 Photos 2
Lagoon Escapade 2017 Photos 3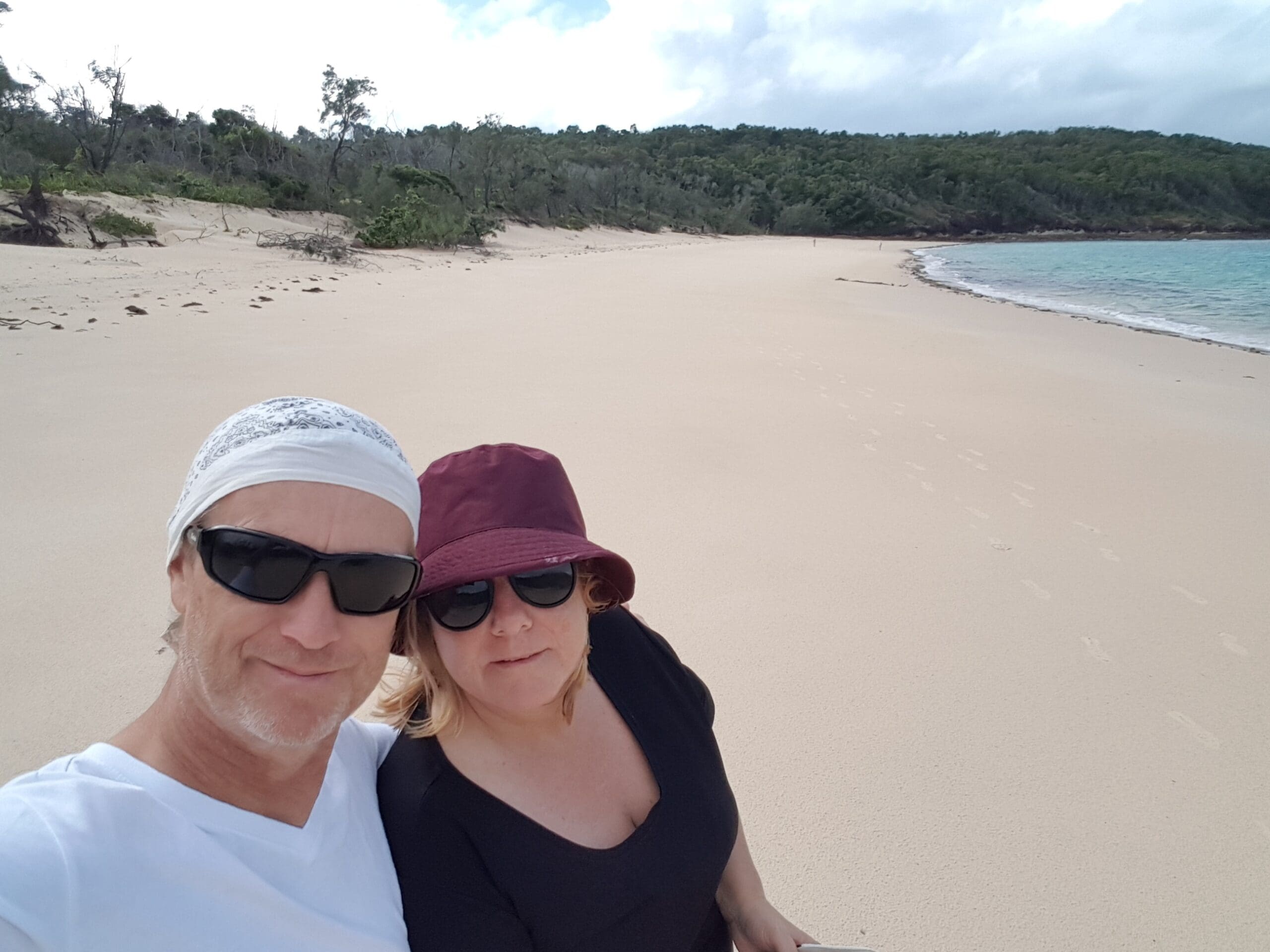 Buying a catamaran and deciding to wrap up your life on land to sail the world is a life-changing decision, one made a little harder when caught up amongst the pandemic and uncertainty it caused.
So we turned to new Lagoon owners Ian and Jackie who put together an incredible story to give you the reality of what this experience was really like for them.
read more