What to Expect When You Launch Your Lagoon in Europe with TMG
Welcome to Les Sables d'Olonne!
We've made this video as a quick introduction so that people launching their Lagoons with us at The Multihull Group know exactly what to look forward to when launching their boat in France from the factory.
You can also find out more about our Euro handover process here, as well as read some of our clients' stories about their recent Euro handovers with a Lagoon 450S, a Lagoon 450s, a Lagoon 380, a Lagoon 42 and another Lagoon 42.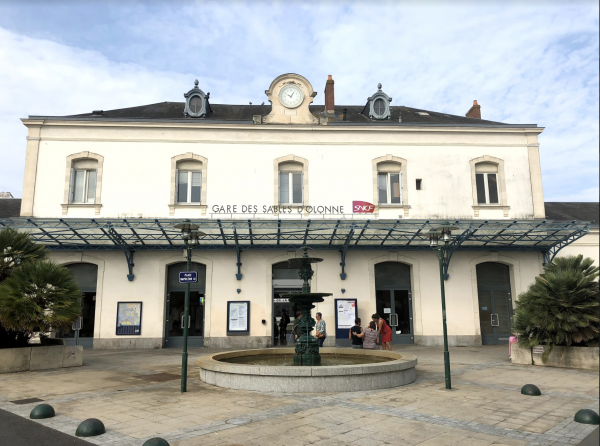 About Les Sables d'Olonne
Les Sables d'Olonne is a great place to pick up your boat. It's got heaps of history, a lot of sailing history and it's the home of Vendee Globe. Throughout summer there so much going on out on the water.
It's a place where our clients love to hang out and there are loads of really nice restaurants along the front.
There's everything there that you need for preparing your boat, including Big Super U and hypermarkets, so you can get all your bits and bobs for the boat.
There's also a train station in Les Sables d'Olonne so you can come straight from Charles de Gaulle Airport in Paris, hop on a train through Nantes and come straight to the train station. At the train station there's an Avis, so again, super easy. If you want to rent a car for a couple of days you can just do that from Avis at the train station in Les Sables d'Olonne.
Accommodation Options
Les Sables d'Olonne is a lovely place to stay and there are lots of options for accommodation.
Many of our clients now are going to Airbnb and finding some really nice accommodation in La Chaume, which is on the port on the left-hand side as you're coming up the port and into the old town.
Where TMG like to stay is only a few hundred metres away from where your boat will be commissioned, at the Admiral Hotel…
…so that's certainly one that we would also recommend.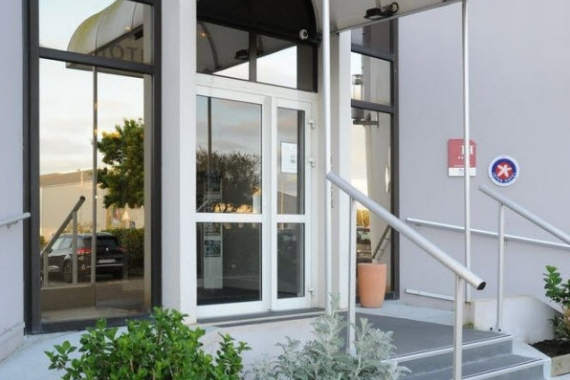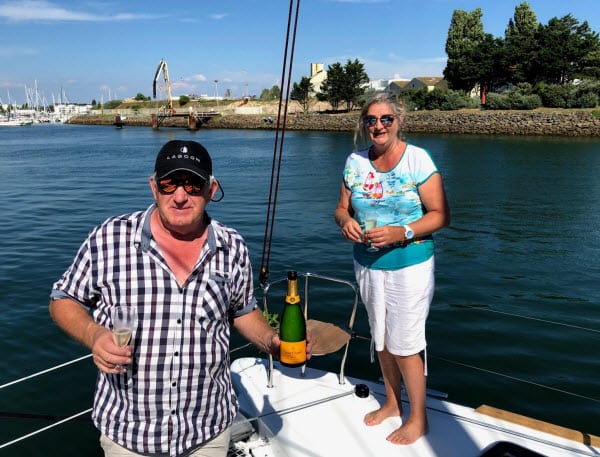 The Role of TMG in Your Euro Handover
When we arrive at the boat we're normally there before the client in order that we can take delivery of the vessel from the team at Lagoon.
The Lagoon team, prior to TMG's arrival, will have already gone through a process of commissioning, using one of the local commissioning agents to ensure that any issues with the vessel that have come up throughout that period have been ironed out.
Then we jump on board and go through all of our commissioning checklists to make sure that we are satisfied to hand the vessel over to you.
The Commissioning of Your Boat
The commissioning of any boat is the most important part of its life.
It's important for us to make sure that after the boat's put together, when it's put into the water, that all the steps are followed and that all necessary checks have been made.
We use three companies – TMG, Lagoon Catamarans and one of the on-site commissioning companies – in order to make sure that when you take ownership your vessel is ready to go.
So before you arrive at your vessel you can be confident that The Multihull Group's gone through a full commissioning checklist with the Lagoon commissioning team.
We make sure that the vessel is prepared and all the systems are ready to go so that when you hop on the boat we can hand over the vessel to you in a confident manner, go through all the systems … and get you out of there sailing.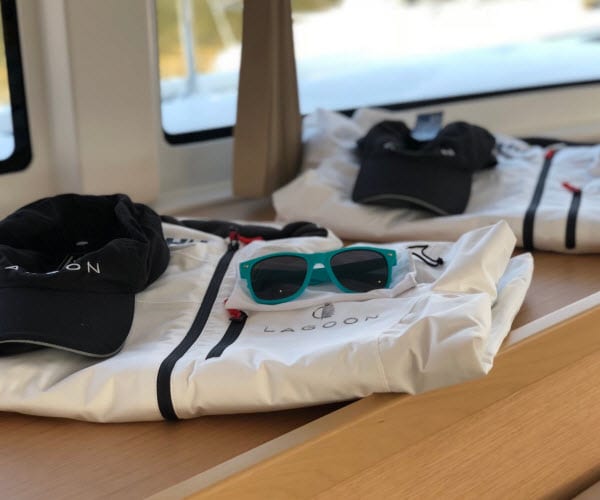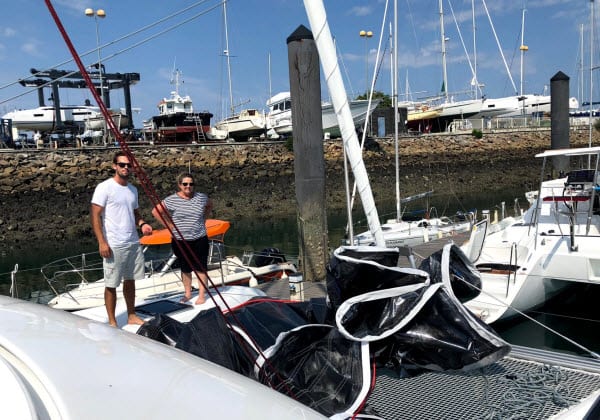 The Importance of a Thorough Handover
The importance of a professional handover, of thoroughly checking your vessel, is huge. It's the most important part in the life of any vessel and so for us to get this right for our clients means a lot.
It's the reason we use a number of checks before the client turns up and it's the reason that we use the Lagoon commissioning team to oversee the whole process.
So when we arrive at the boat we know that there have been at least two checks done on it before we do our own checks for our clients and we are comfortable to then be able to hand the boat over to you with confidence.
The Team at The Multihull Group Welcome You Onboard
When you arrive at your boat for the first time your boat will be fully prepared for you and ready for handover.
So, you'll be stepping on to a boat that's completed, that's dressed and ideally with some champagne, beer and water in the fridge for you.
You'll find the team at The Multihull Group ready to welcome you and show you through your vessel.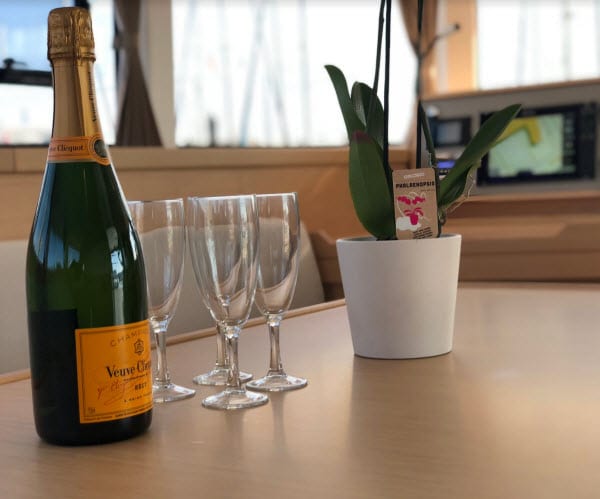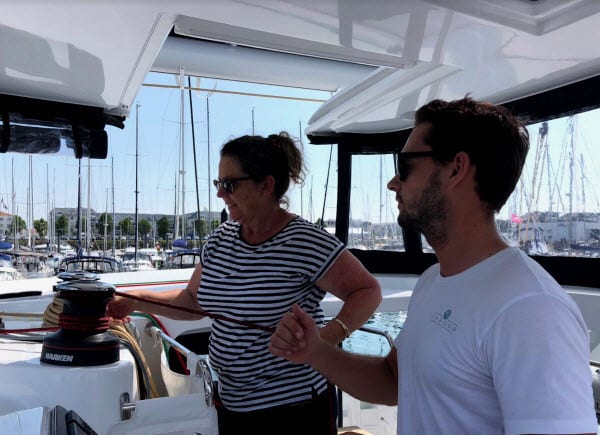 The Technical Handover
When we hand the boat across to you, you can expect quite an intense two days of handover.
Once you're on the boat and have explored around and become comfortable with the vessel, we'll take you right from the back of the boat all the way through to the bow, going through what we call the technical handover.
We go through the batteries, the battery management system, the engines, all your 12-volt systems, all your 240-volt systems.
It's quite a day of learning, but we want to make sure that we've shown you every single bit of the boat so you can be comfortable and ensure you've seen all of the boat working and operating on that first day.
The Shakedown Sail and Handover
On day two we'll aim to head out on the water for a shakedown sail.
What we want to do is show you how to hoist your sails, ensure that you've seen how the sails are reefed, help you mark those reefing lines, go out onto the bay and deploy the anchor. We'll also do some mooring practice.
We really want you to be comfortable with every aspect of manoeuvring the vessel and handling the sails out there on the water.
Following the commissioning, the technical handover and the shakedown sail, the vessel is then signed over and she's all yours.
From this point onwards, it's a time to get onboard, get your gear and start getting settled in and getting to know your new boat.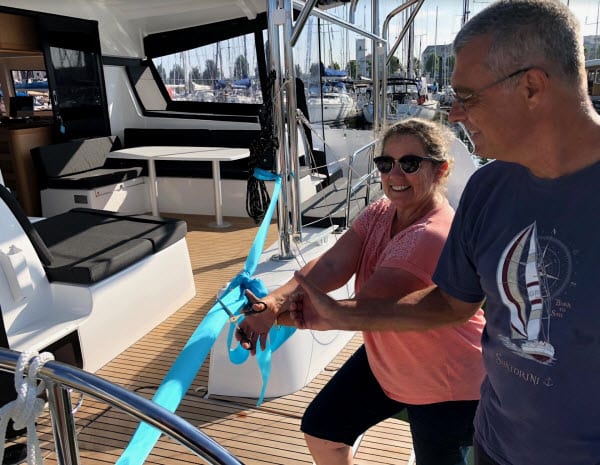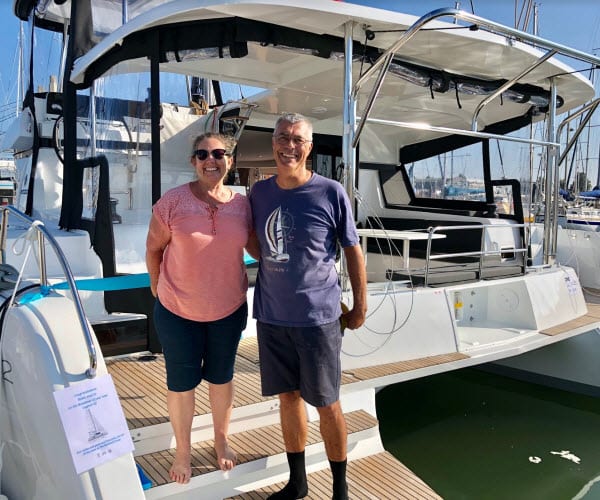 The After Sales Support
Handing over the boat to you is really just the beginning of our relationship. We pride ourselves on our service and the after-sales back-up that we offer to you.
Wherever you are in the world on your cruising adventure, on your Lagoon, we're here to look after you.
One of the strengths of Lagoon comes from the 80 plus dealers we have located all around the globe. What that means is you've got 80 service centres, 80 Lagoon experts to call upon and we're here to coordinate any works for you on request.
There's definitely a sense of pride in handing over any boat. We're obviously very proud of the Lagoon brand and the product and we're going to represent it the best way possible.
So when we hand a boat over to somebody it's often a culmination of a life's work for them.
It's a massive purchase and it means a lot, so to make that process special, to make sure that it's done in the most professional way, is super important to TMG and I hope that shows in what we do for our clients.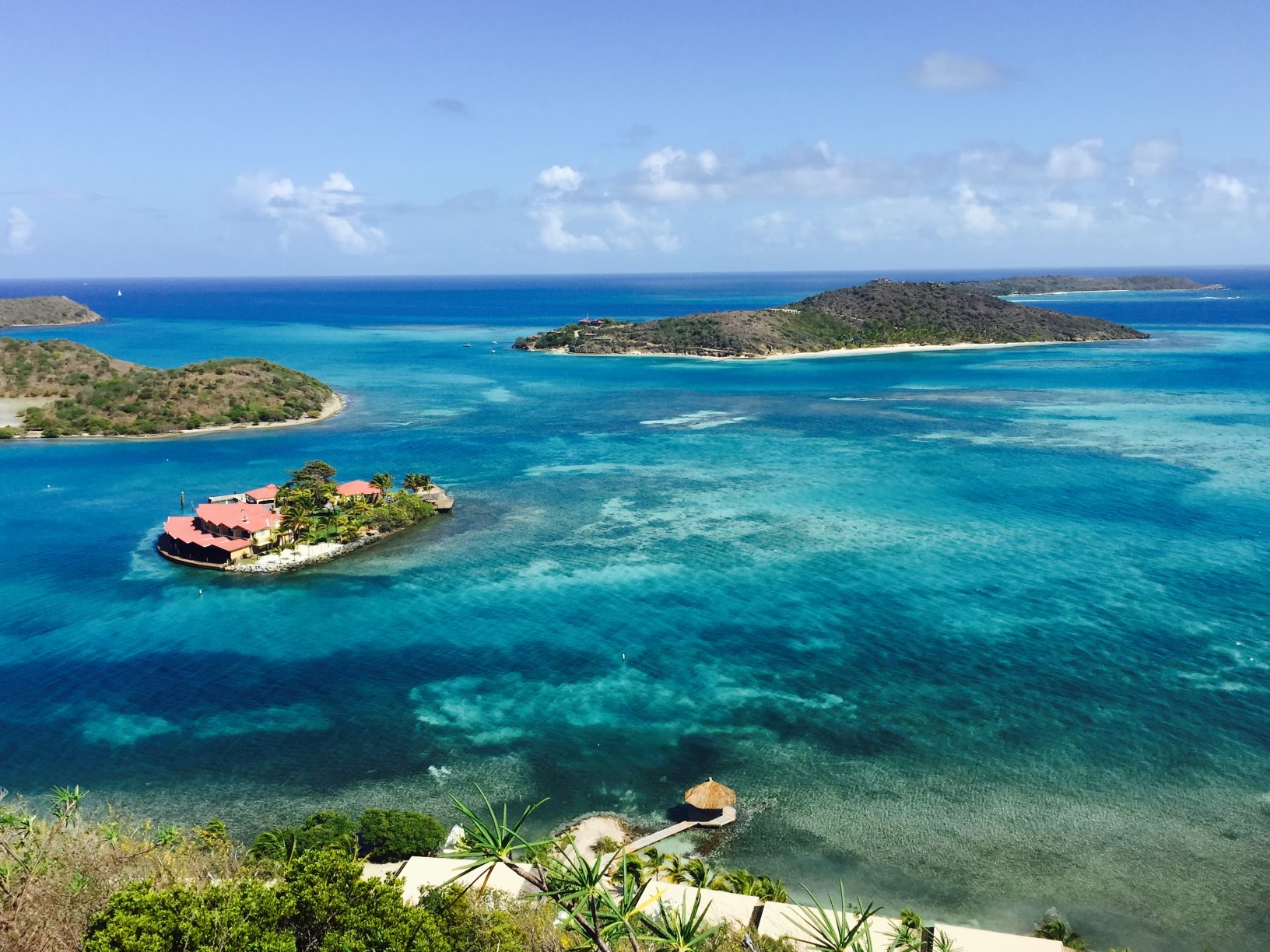 Welcome to the Cruising Directory of the British Virgin Islands, Caribbean.This guide has been put together by Jenny Brand, who spent almost a decade conducting sailing charters around the British Virgin Islands on Lagoon Catamarans with her husband Jaco.
read more