If you own a Lagoon in Australia, Paul Rogers, and his partner Kathy will need little introduction. The pair has been keeping us entertained on the Lagooned in Oz Facebook page and their sailing blogs, with tales of tropical island hopping, frequent onboard social events,  some mention of bums and many mentions of rum, these last 18 months. They are a regular fixture at the Lagoon meetups and have proved they know how to throw a party (and challenge the max person capacity of their Lagoon 450!)
But is it all fun and games living aboard Moor R&R? Well apparently… yes!
Paul used to sail 'in the dim and distant past', racing Hobie Cats, and chartering yachts. In 2011, he was working hard running his business, with no free time. He bought a charter boat, a Lagoon 421 named R&R, with a mind to enjoy some downtime on the water. R&R went into charter for Whitsunday Escape and twice a year Paul and Kathy had a much-needed break, got out on the water, and continued to benefit financially from their investment.
'It got me back into sailing, which is just what I needed to get me out of motorbikes and attempting land speed records!'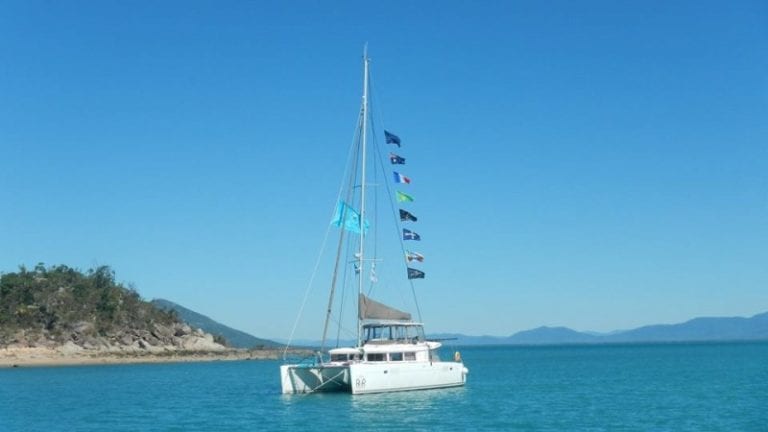 A change of pace
The long-term idea was to run the charter for 5 or 6 years. But in 2012 Paul's doctor told him to change his lifestyle and reduce his stress levels.
'I sold my business, but we couldn't get onto our charter for 18 months. We saw no point in sitting around, so we made the decision to move to Brisbane with a mind to take the charter out of service… but the problem with that is that there would be no money. So instead we decided to buy a boat and live aboard permanently, and keep the charter too.'
Paul and Kathy bought Moor R&R in April 2014, and although second hand, the boat had been little used and was still only 6 months old. They made the move from Adelaide to Qld, moored the boat at Raby Bay in Brisbane, and prepared to change their lifestyle and live aboard full time. After making a few tweaks such as adding a water maker and solar panels, Kathy and Paul and their 3 cats moved on board in October 2014.
East Coast Living
'Two friends out of Brisbane joined us for the shakedown cruise to the Gold Coast and then we headed towards Sydney for the fireworks but only got far as Lake Macquarie, which we were quite happy with.
'Heading back up to Brisbane we stopped on beautiful Clarence River with grand plans to celebrate my 60th birthday. Friends joined us on the boat for drinks, and dinner was planned at a local pub. Unfortunately, we discovered that the pub didn't serve dinner on weeknights so my 60th birthday dinner ended up being frozen pizza on the boat!'
'We headed up to the Whitsundays in 2015 and made the decision to stay up north for the cyclone season, staying on Magnetic Island and then at Breakwater Marina Townsville – I'm not sure we'd do that again, it was incredibly hot and humid. While we were up there we got mixed up with a race skipper of a monohull so we did the Magnetic Island Race Week and Port Douglas Race Week. They were good fun and quite an experience for Kathy as she hadn't raced before.'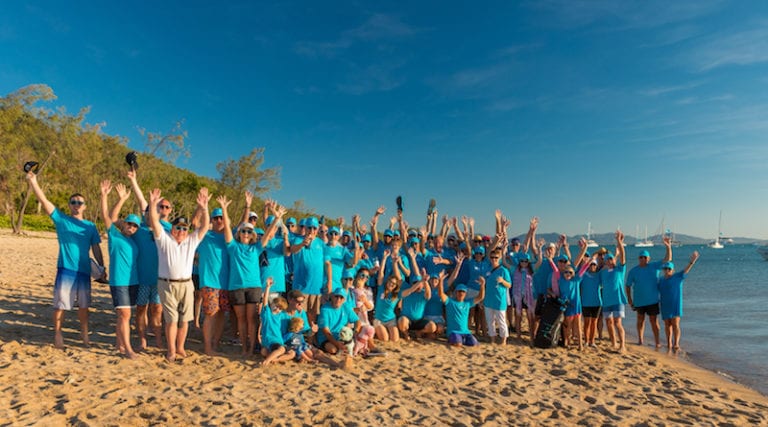 Goonies get together
'It was Greg Harding that suggested the first Lagoon Escapade. We met at Sid Harbour, about 14 boats altogether, and The Multihull Group joined us with 'refreshments' and goodies. There was such a great feeling from that first get together, it was brilliant… and after that, people wanted to stay in touch.  So I created our Facebook page, Lagooned in Oz, with Greg, Sue, Kathy and I as the administrators.
'We now have about 80 or 90 boat owners, and every couple of days we get a new request from someone wanting to join. We want to keep it to a relevant community though, so the page is for people who have Lagoons or are thinking of buying a Lagoon, in Australasia. This keeps it focussed on what's going on locally. Someone might post about where you can tie your dinghy at Runaway Bay supermarket on the Gold Coast, post maps of secret spots, or weather updates… And I'm pretty sure that Lagoon people know where every Dan Murphy's is on the east coast!
'After the brilliant Lagoon Escapade in the Whitsundays this year, we spent some time at Lizard Island. On the way back down we stopped at Cooktown, but we got a notice on the dinghy and threatened with a fine. It was suggested we tie up on the mud flats with the crocs..! This is the kind of advice we can share on the Facebook page so people know what to expect on their own adventures.'
'Our Lagoon is very spacious, it gives us the ability to live onboard very well – it's supremely comfortable. We've been on the boat full time for over 3 years now and have only slept off the boat for 3 weeks. We don't think of it as a boat – it's home.'
Filling up the diary
'The plan so far for next year after the Lagoon Summer Escapade at Lake Macquarie, is to head down to The Hawkesbury River and Pittwater until it's time to go back up north, head up towards Lizard Island and then further up to Portland Roads… the tip of Cape York sounds appealing.
'We don't have any overseas plans in the short term. When we started this adventure we weren't sure how long we would go for, but we made a pact to go year by year. Recently while up on Lizard island we decided to commit to another year…'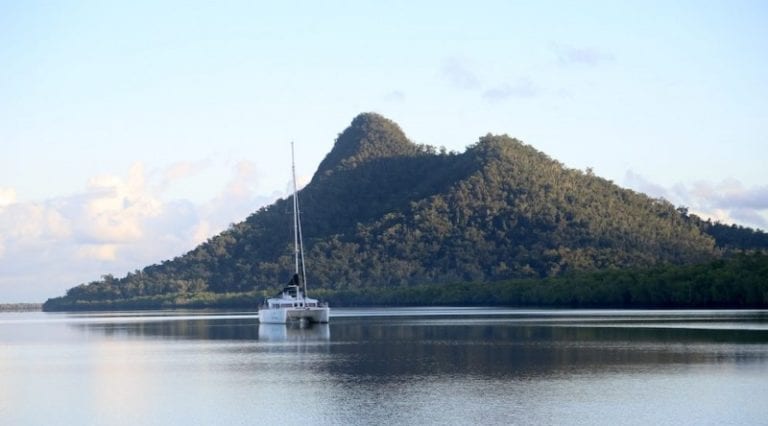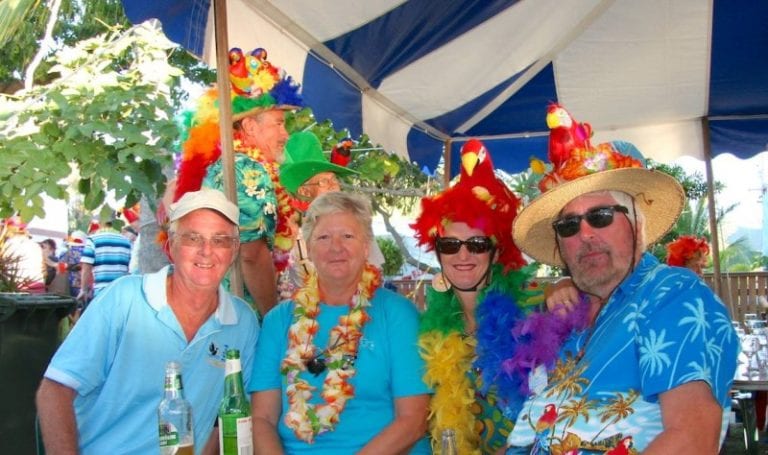 The secret to a happy life
'The best thing about live-aboard life is that you don't have to mow the lawn..! And when we're sick of the view out the back door we move and go somewhere else. If somewhere isn't fun, you move on. We're fully mobile.
'But in reality, the best thing about our lifestyle is not the boat or location, it's the people. There is a whole community of Lagoon owners, and the Lagoon events have connected us with so many wonderful people.
'We lived in Adelaide for 40 years, and are very social people, we used to have huge parties at our house. But we hear from and catch up with people we've met through the Lagoon group more often than friends we've known for 40 years… This lifestyle, it's all about the people you meet.'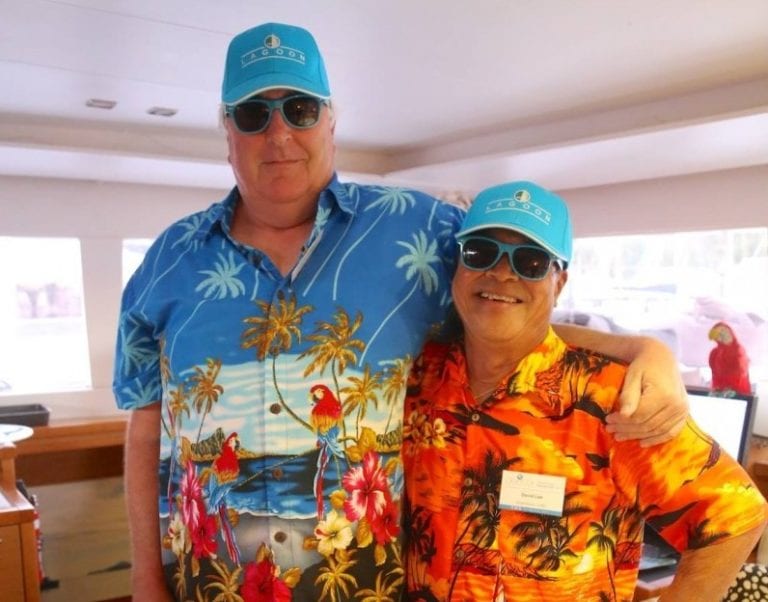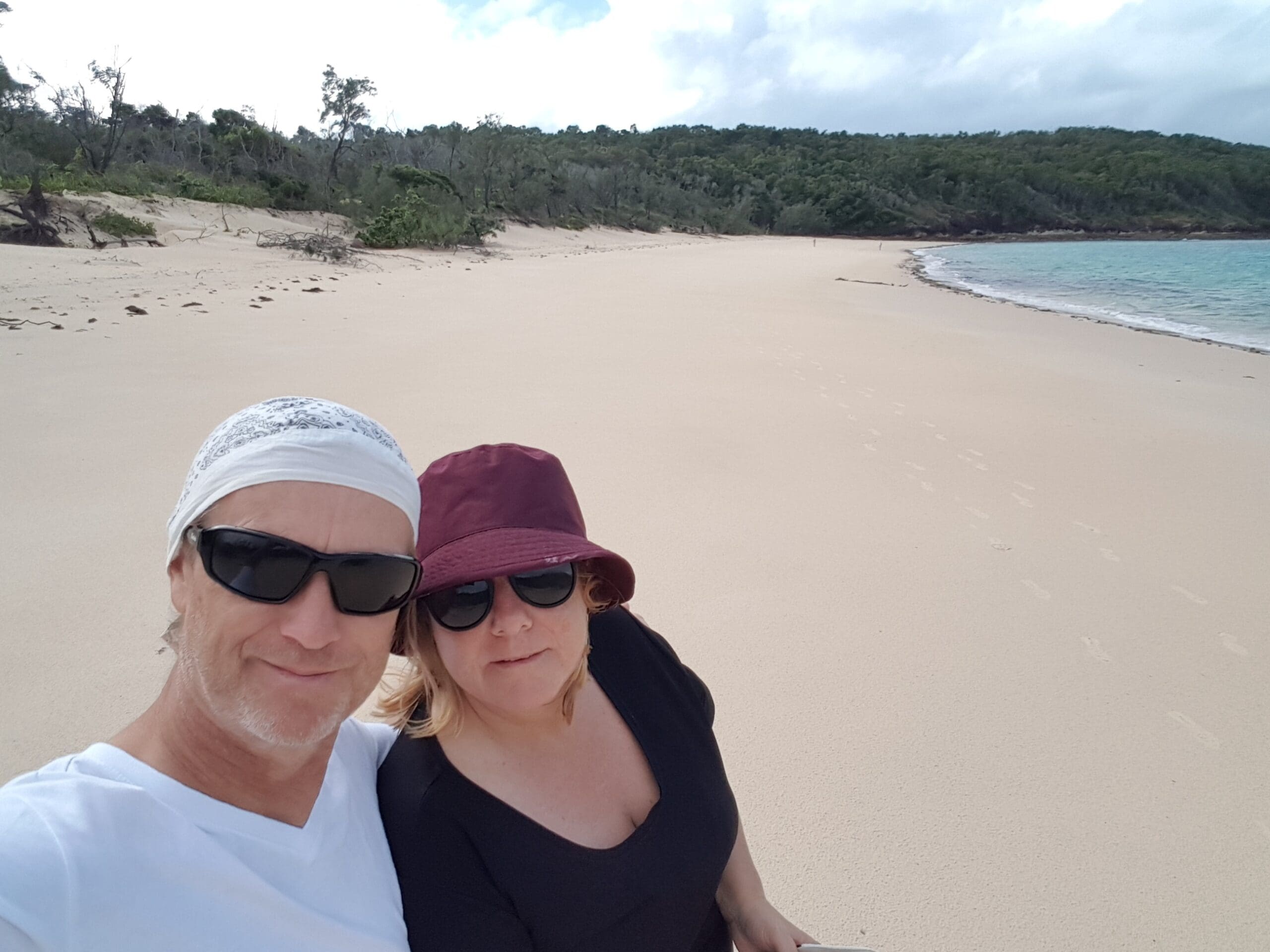 Buying a catamaran and deciding to wrap up your life on land to sail the world is a life-changing decision, one made a little harder when caught up amongst the pandemic and uncertainty it caused.
So we turned to new Lagoon owners Ian and Jackie who put together an incredible story to give you the reality of what this experience was really like for them.
read more