Whitsundays Family Adventure
This year for the 2020 Lagoon Escapade our Queensland manager Rowan McMahon was fortunate enough to attend the event by boat instead of staying onshore. What made this year even more special was to bring his wife Kylie and 5-year-old son Spencer along for the event to help set up and also enjoy some time in their old home of the Whitsundays.
Speaking with John Linton at Portland Roads, he had a vacancy on his Lagoon 420. This was the perfect model to house the family on this "Work trip" for a week.
Written by Rowan McMahon
Day 1
Flying into the Whitsundays region is always very scenic with all the stunning Islands surrounded by the picturesque turquoise waters. After the short journey from Proserpine Airport, we arrived at the Coral Sea Marina. We were happily greeted by Mike who was to give us a familiarisation and briefing of the Lagoon 420 Portland Roads. Considering myself a bit of a Lagoon expert, I was going to keep my mouth shut, let Mike do his formalities and let us get underway. From the moment I stepped on board, I could see that this boat has had some modifications through the years, so I listened intently to ensure I understand this boat inside and out plus gain some wisdom for any other Lagoon owners wishing to upgrade their cruising cat.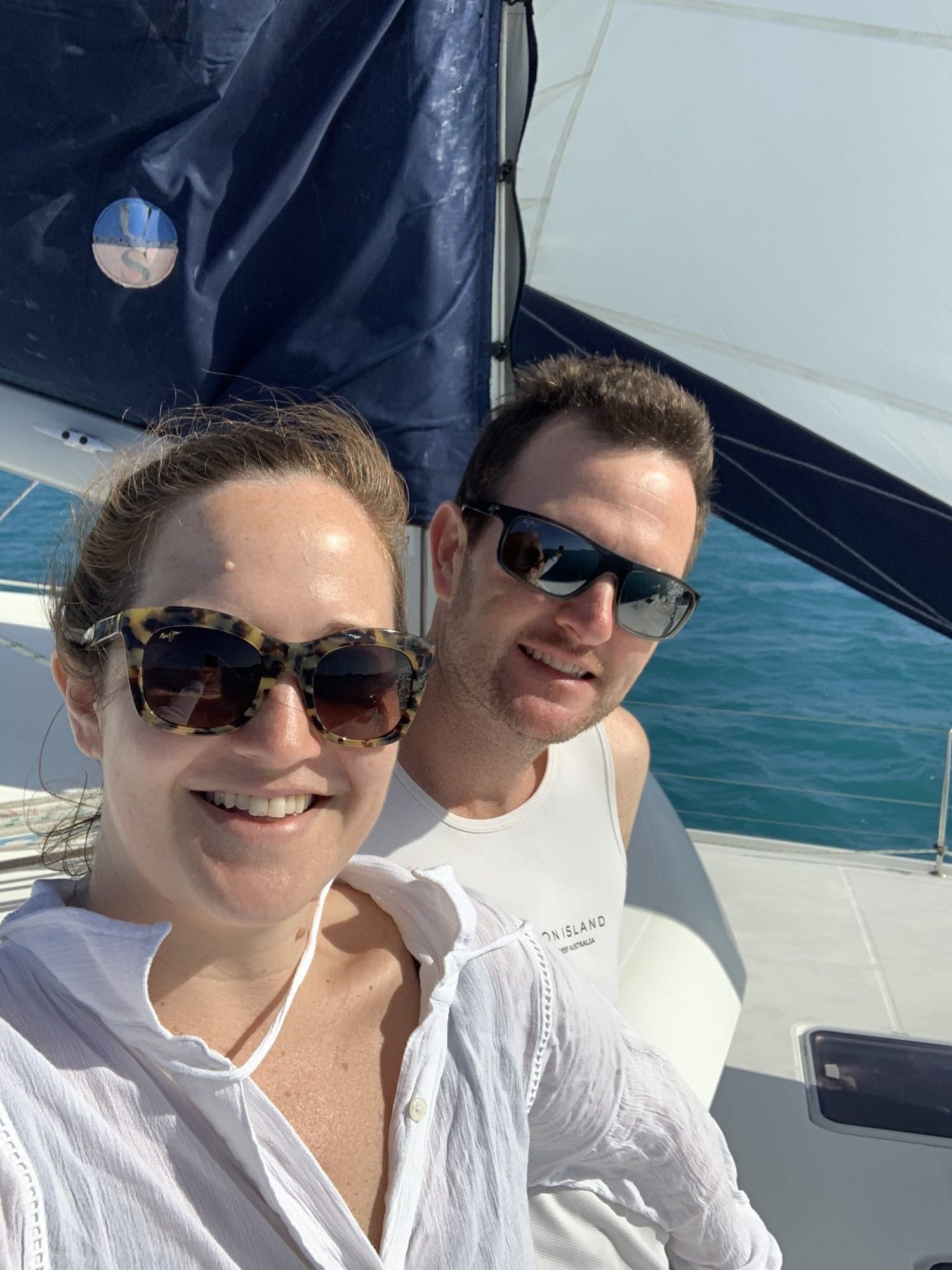 With the briefing out of the way, we headed off to the supermarket to provision then a final stop at Bottle Shop to gather adult refreshments for the first night of the Escapade Event. Both the supermarket and bottle shop is less than a 5 min drive away which is very handy but if the drive is an issue you can have your groceries delivered and purchase the drinks from the bottle shop at the Marina.
We loaded up the boat, and the first pleasant surprise I found was we could fill up the interior fridge and freezer with all our food for the week and between the additional interior fridge, exterior fridge, freezer and cockpit esky we had enough cold storage to house all the drinks for our 60 person event, and there was still more room……Very impressed!!!
Day 2
Once we had made all the final provisions for the event, we were set to leave, we departed the marina, unfurled the headsail, set the autopilot and headed north. It was a great feeling to know I am out here sharing the finer parts of my job with my family. During the 26NM trip north, we saw a fellow Lagoon Owner and his stunning 380. I made sure we got close enough to have a quick chat and get some nice photos of his new screecher which he is proud of.
Finally, we made it to Cape Gloucester after the 4-hour journey and picked up a mooring out front. Time to stretch the legs, do a bit of a reconnaissance of the area and have a play on the beach. We lowered the tender, loaded it with the beach bag, footy and a few cold refreshments we headed in. Some Lagoon owners and their friends greeted us that own half a catamaran (a monohull) all enjoying some sundowners and a social chat. Not being one to stand out, I cracked open the tinnie and enjoyed the evening yarn of salty stories.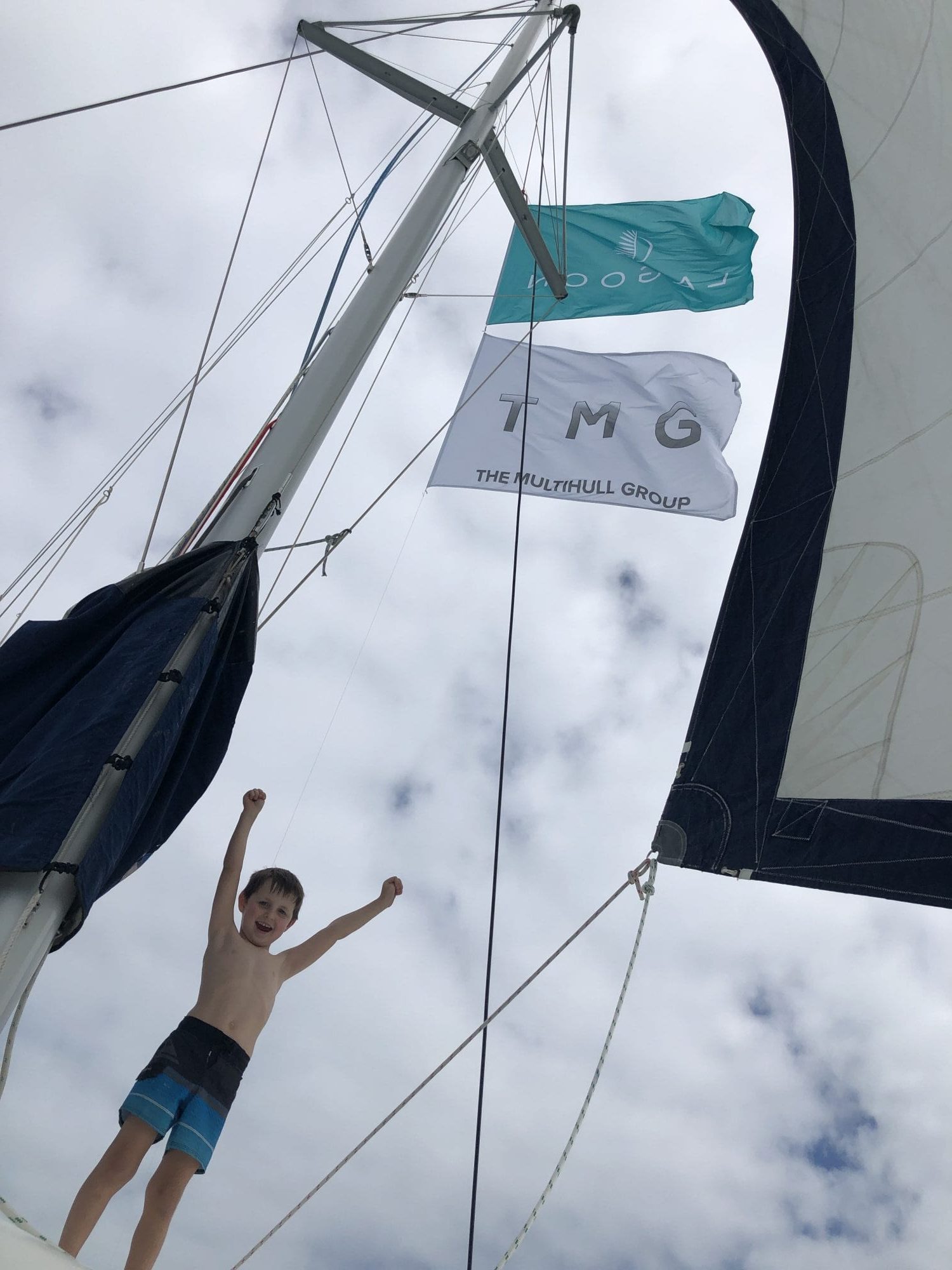 As the sun descended over the mountain ranges of Bowen, we retreated to our beautiful Lagoon 420 to freshen up and prepare some dinner. Portland Roads is a very well-equipped boat with an abundance of galley wear. I do not think during our stay onboard was there once either Kylie or I said, "I wish this boat had…" Kylie even took note of the brand of collapsible Tupperware that had plenty of use with leftovers and preparing meals. We turned the saloon table into a bed with the shorter legs and extra cushions, and this became our lounge. We could lay here at night and watch movies via the hard drive that was pre-loaded with plenty of both kids and adult movies for times Spencer just wanted to have a laydown and relax. For me, this was a great way to use the saloon area and make it more comfortable but a simple transition back to a dining table if needed.
We spent the next couple of days having an absolute blast with everyone who attended the Lagoon Escapade for either their first time or for some veteran Goonies their 5th or 6th time joining the fun. More information, photos and video of the Lagoon Escapade can be found at https://www.themultihullgroup.com/lagoon-whitsundays-escapade-2020-recap/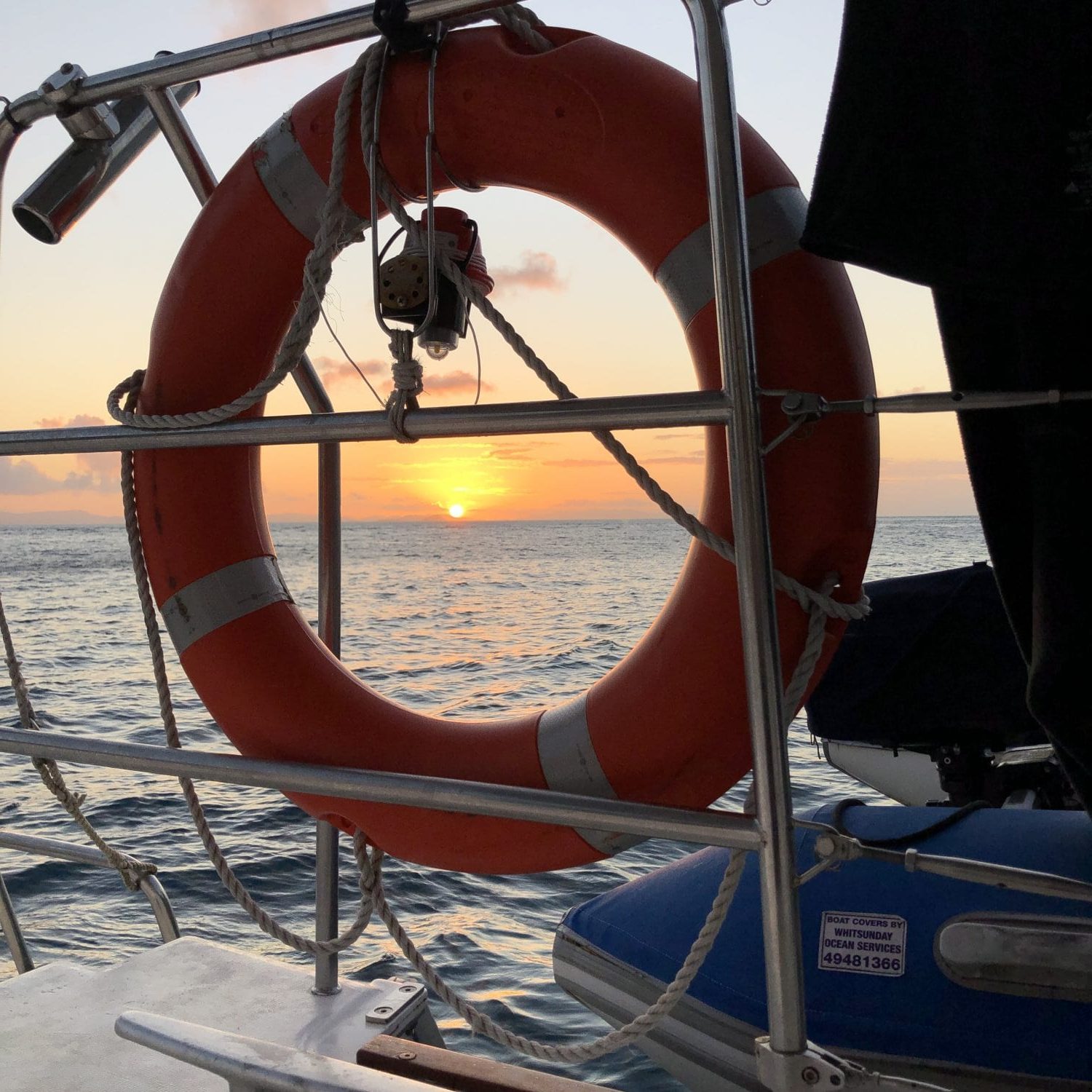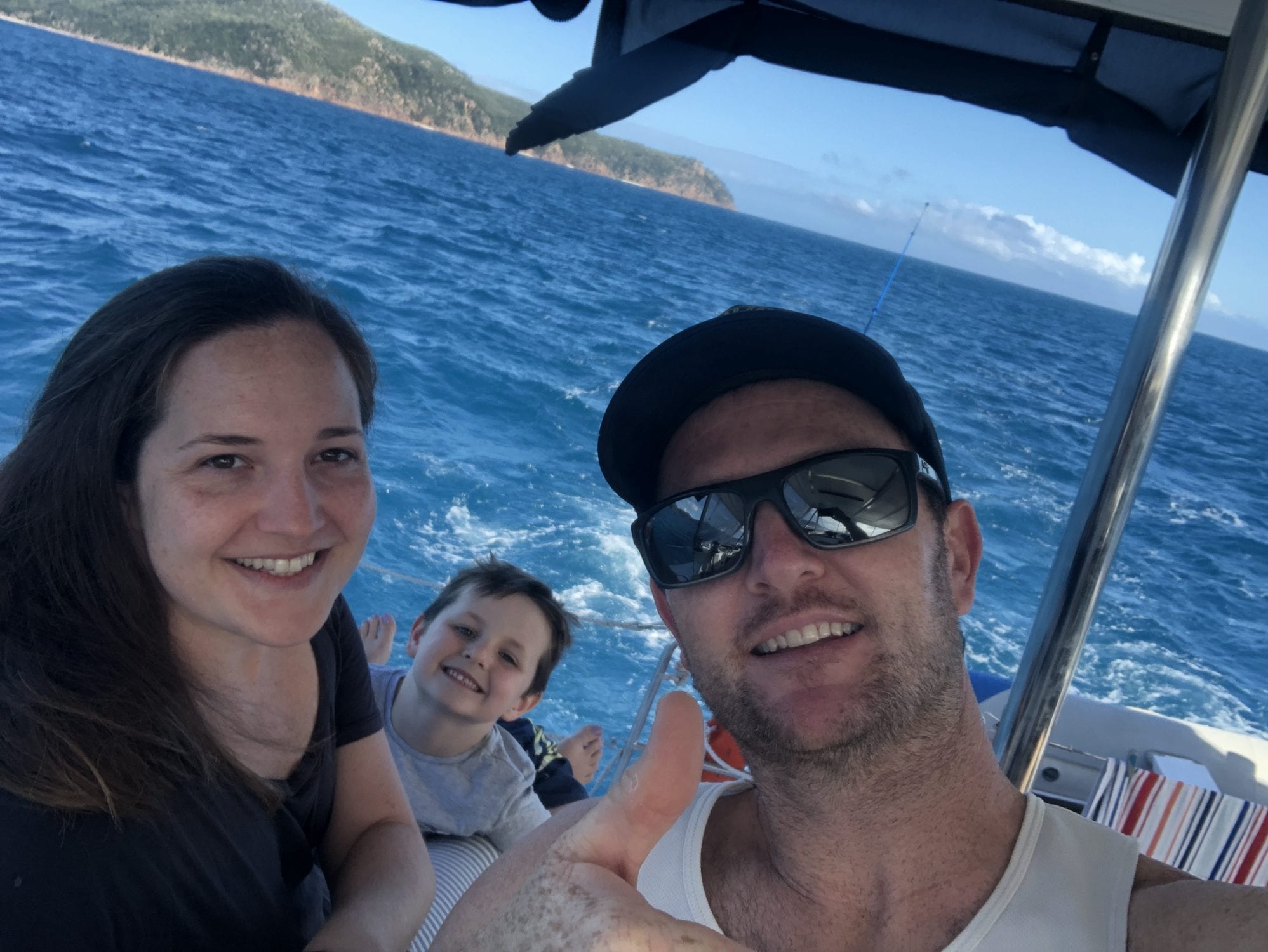 Day 5 onboard
Saturday morning, we woke up, cooked up a tasty breakfast and not wanting to waste any of our time left. We departed the anchorage of Cape Gloucester, travelled around the famous Shag Islet and out through the passage heading for Blue Pearl Bay (west side of Hayman Island). Having lived in the region for almost 5 years before joining TMG The Multihull Group, Blue Pearl was one of my favourite anchorages and snorkelling location especially due to the ease of a gradual swim from the shore for kids. We sailed across the passage at an extremely comfortable 7-8knots, we had whale breaching on the distance and dolphins playing with the boat. These are always special moments seeing nature in its natural habitat and something most do not get to see often, if at all (unless you have a Lagoon 😉 ).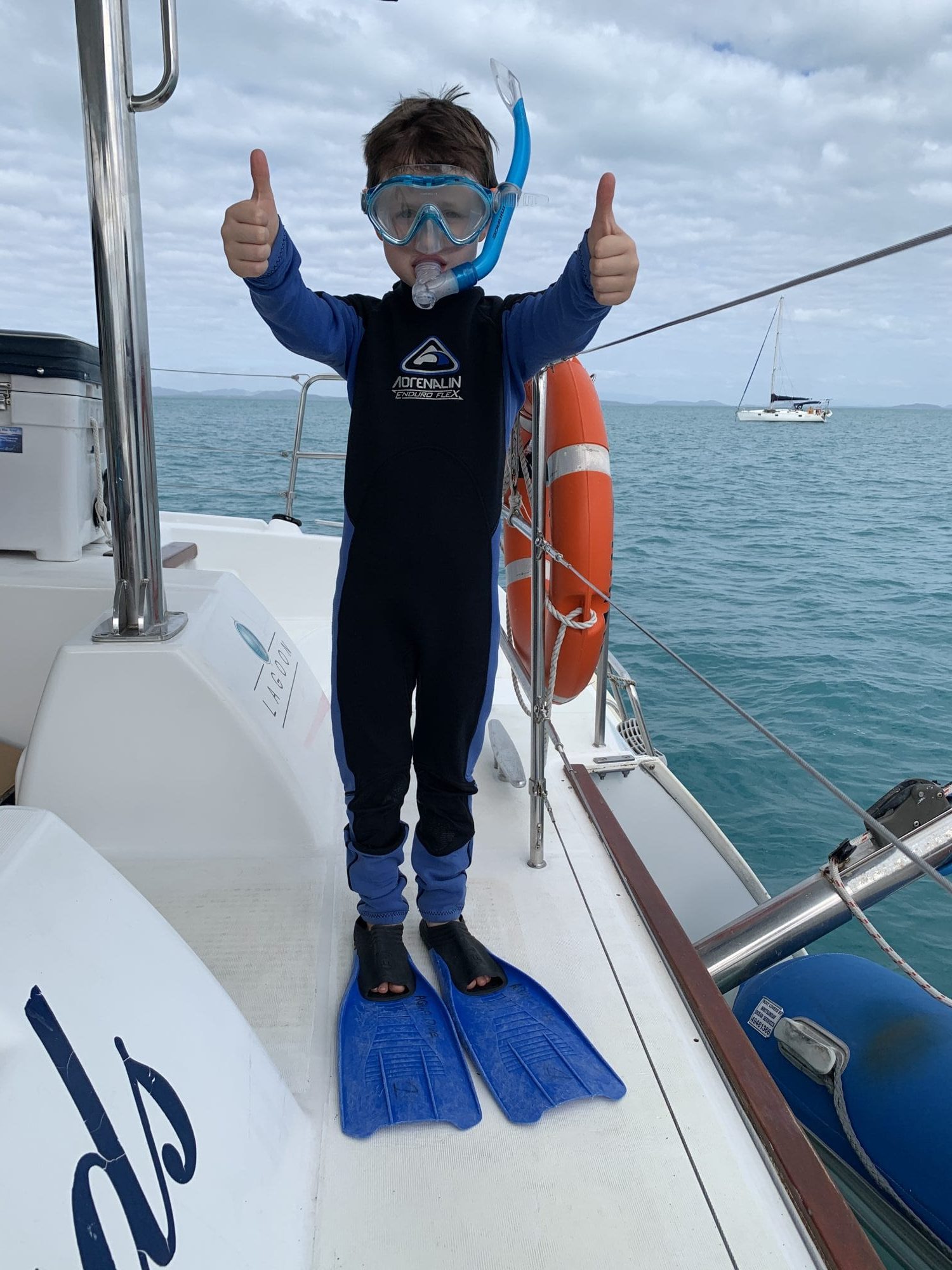 Once at Blue Pearl we picked up a mooring, lowered the tender and got our snorkelling gear ready, now Blue Pearl isn't known for its sandy shore, so we pulled the aluminium tender up the sea of broken off coral and rocks, put on our mask and fins and headed out.
This was Spencer's first time ever snorkelling, and he took to it like a fish in the water. He is already a good swimmer and loves to dive underwater, so this was a perfect place to test out his new equipment. We could really see the effects Cyclone Debbie had on this once amazing coral reef system, and I did expect this to be the case. However, nevertheless, there is still an abundance of beautiful fish like the Blue and Yellow Fusilier's, Parrot Fish and plenty more small and pretty fish.
I finally manage to convince Spencer it was time to head back to the boat since we had seen every fish in the bay (I was pooped) and we hopped in the dingy and went back to the boat. Just as we tied up a couple of friends venturing beyond the shelter of Airlie beach turned up in their jet skis which were also their maiden voyages on their crafts, so the flotilla increased.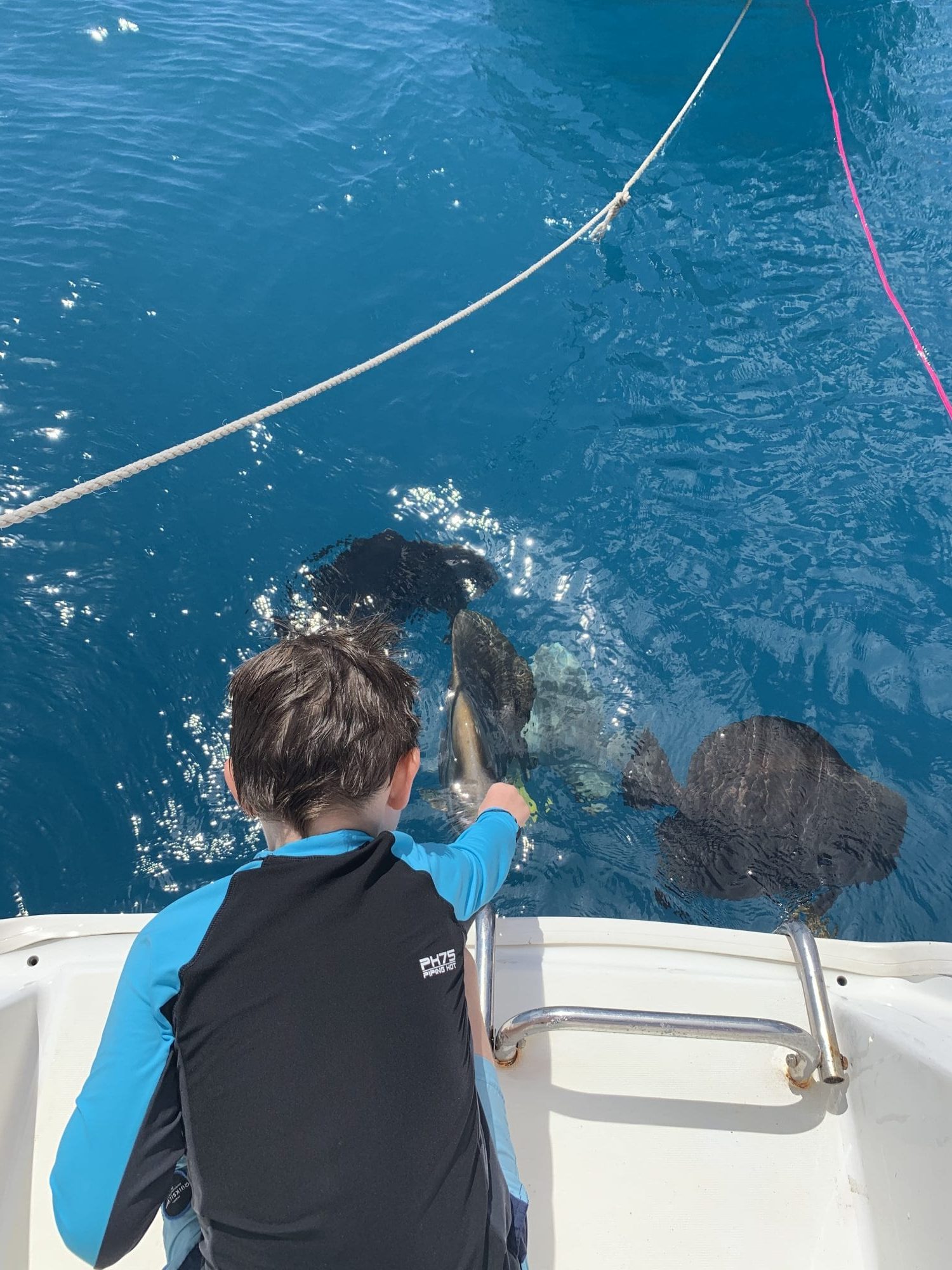 Being the hospitable hosts, we fired up the BBQ. We got lunch ready to feed the starving family after an hour of snorkelling and hungry jet skiers who underestimated the 15-20knot SE'er in the Whitsunday Passage.
The fun thing with most anchorages around the Whitsundays is the playful Batfish that always seem to hang around moored boats, just like hungry dogs waiting for any scraps that might get passed to them. These fish entertained all of us for hours.
After lunch it only seemed appropriate to take Spencer for his first jetski ride, staying close to shore we scooted over the top of the reef and did a lap of Hayman Island, at times I don't think Spencer knew to either laugh or cry, but he did hold on tight and had a great time.
With the afternoon wrapping up and our friends needing to return to Airlie before darkness, they reluctantly hopped back on their skis and pounded their way home.
The sun started to descend, and the cocktail hour began with an assortment of cheese and dips. This was another reason for my decision to choose Blue Pearl with the stunning, unobscured sunsets you have here every day!
Day 6
Wake up and refresh with a dip in the Coral Sea, you cannot start the day in a better fashion…. Or maybe you can by hopping in the tender and going fishing with your son! Driving out of the green zone, we went to the north side of Hayman and trawled around for an hour. Luckily, we provisioned well beforehand because we would be going hungry if the hunting and gathering were left up to me. Coming back unsuccessful was not all that bad as it was still a great father/son bonding time. This day was even more special as it was Father's Day and we were fortunate enough to be here in the tropical Whitsundays, cruising on a fabulous 42ft Lagoon catamaran.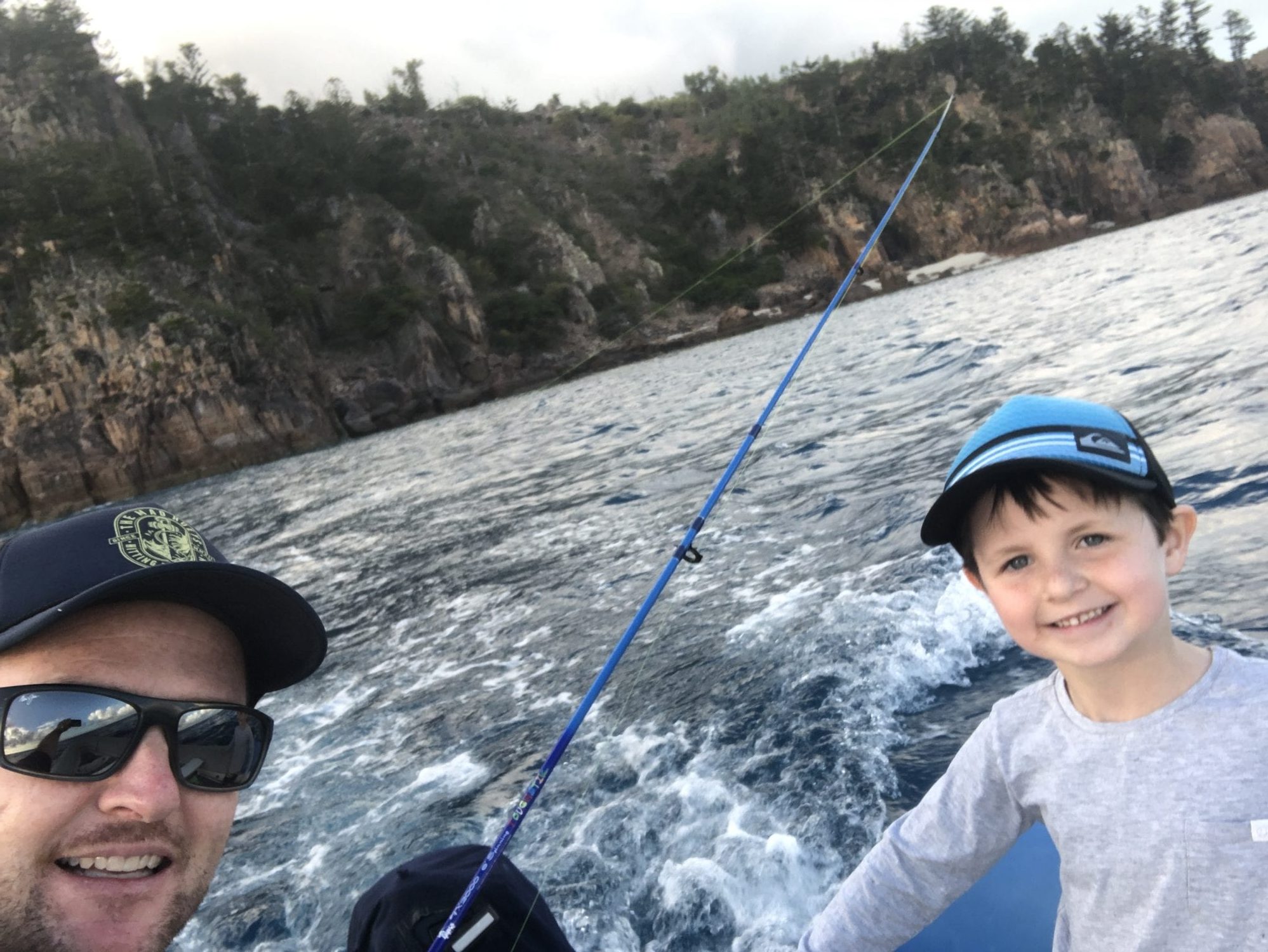 After eating a lovely father's days breaky cooked by Kylie, we dropped the mooring and cruised around to Manta Ray Bay. We were lucky to grab a mooring as another boat was leaving, so once again, we lowered the tender, got the snorkelling gear ready and went closer into the tender moorings conveniently placed.
Now for those who have not been to Manta Ray Bay, it is the North-Eastern tip of Hook Island, the water is a bit deeper especially on the high tide, but this place has some really cool big fish. We started by watching everything from the surface. I brought with me the special fish pellets the team from Portland Roads provide to their charterers. Sending out the pellets, the usual Fusiliers were in full swing, but the dark shadows of the Giant Trevally do not take long to come up knowing a feed is inevitable. Shortly followed by the incredibly majestic Hump Head Maori Wrasse. Without a doubt, this bread of fish always has the be the highlight of any underwater adventure and here we are hand feeding this beauty. Spencer was not as keen to jump in for a snorkel here with these fish almost as big as him but finally we all slide in and enjoy the snorkelling highlight of the trip. Being a bit overwhelming for both Spencer and Kylie, we hopped back into the tender and enjoyed a bit more from above the water.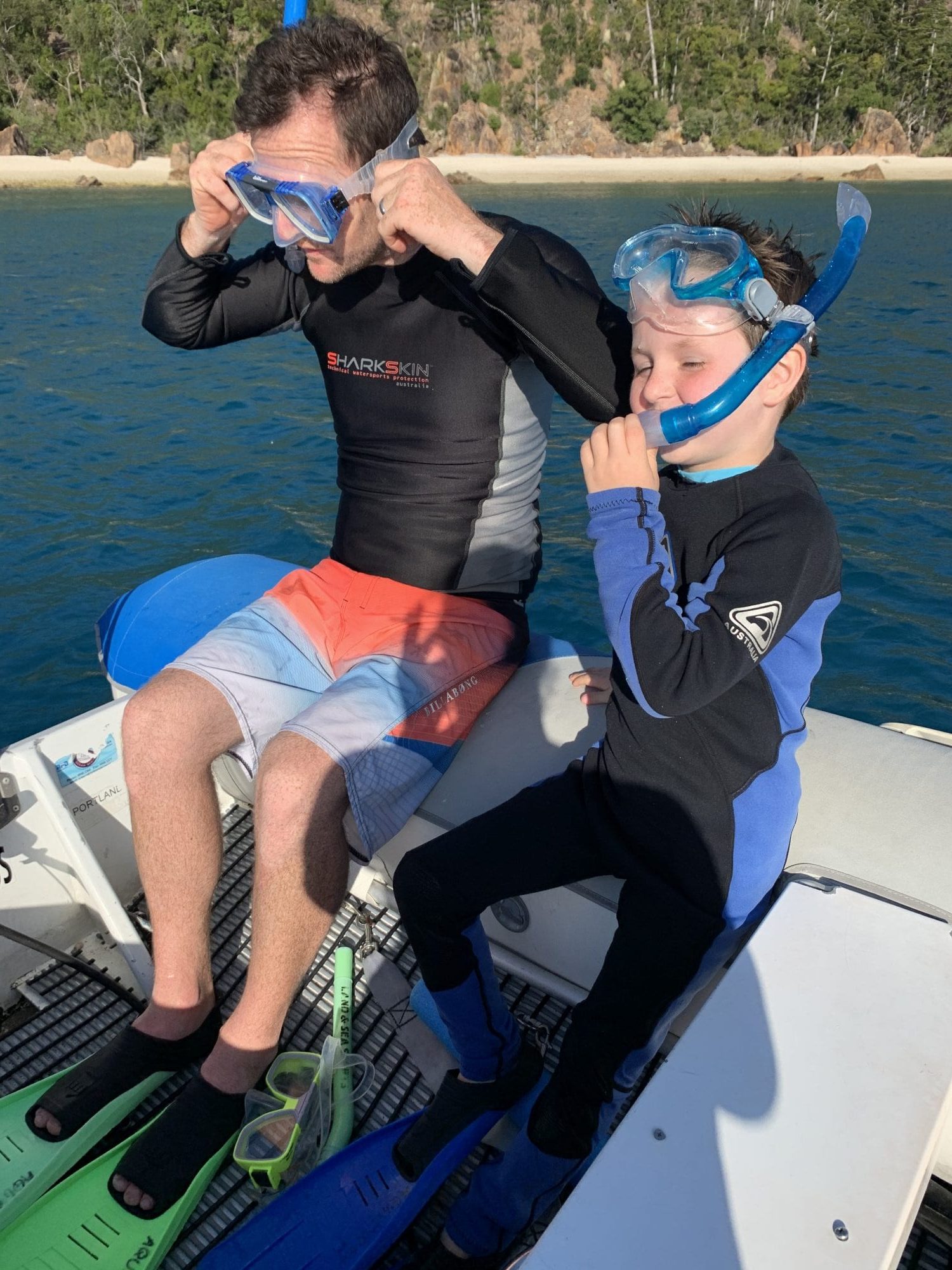 Once we were finished here, we went back to the boat, hoisted the tender and headed toward another favourite of mine, Black Island (Bali High). Being one of the few sandy beaches, this is another friendly snorkelling spot and somewhere nice to walk on soft sand. Along the short journey, we were pleasantly greeted by a mother and her calf that popped up quite close to us. We stopped the boat and watched in awe as this beautiful mother/baby moment stayed close to the surface for several minutes before taking a deep breath and dived down. Back into gear, we made our way through the Narrows of Hayman and Hook Island and onto the western side of Black Island.
On another mooring, we went ashore for a wander on the beach looking for treasures, ran around and kicked the footy. Being the nice gradual sandy slope into the water, Spencer was a bit keener to snorkel around. From what I have been told the eastern side of Island has better snorkelling post-Cyclone Debbie, but for now this was a nice easy swim Spencer was enjoying and couldn't stop talking through his snorkel to all the fish.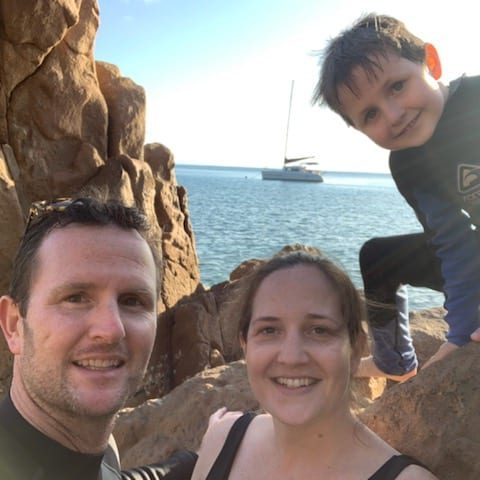 With this being our last night on board, I was keen to show my family another favourite anchorage of mine which if lucky can have to ourselves. So, we headed south along Hook Island to Caves Cove, catered with 2 public moorings, we tied up and went ashore. With a small cave to explore and big rocks to climb, we spent some time playing here. The cave is nothing too fancy but something different for everyone to enjoy. We climbed over the huge rocks explored all the rock pools and found a great rock to jump off into the water, it wasn't very big but fun for a 5-year-old.
After playing here for a bit longer and 1 last snorkel we decided to head back and relax on the boat for the afternoon. With the music playing and enjoying the afternoon sun, we could hear the spurts of a family of whales just drifting in the tide only a few hundred meters from us. What a way to finish the day with this sight and another stunning sunset over the inland mountains of Mainland Australia.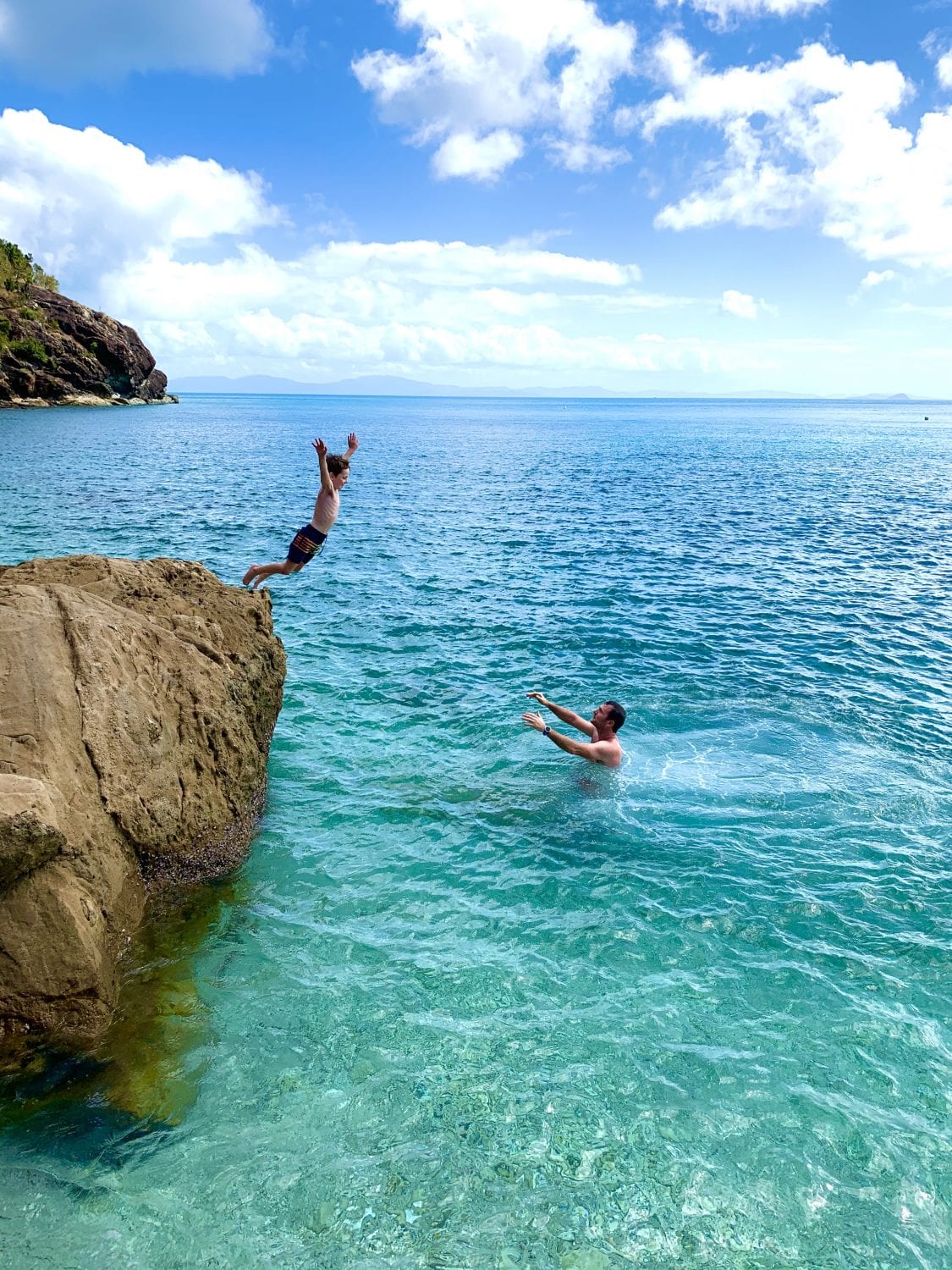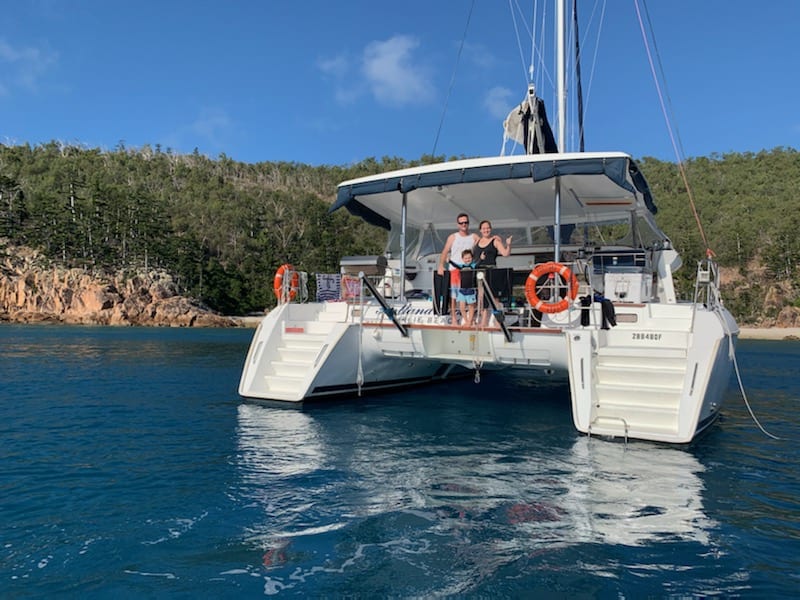 Day 7
Waking up the next morning was a bit sad since we needed to head back to Airlie. Still, we made the most of it, explored a couple of the coral beaches looking for treasures one last time before heading back, hoist the tender for the final time and head South-West towards Airlie Beach to be at Coral Sea Marina for our scheduled 12 pm refuelling time with Mike.
Halfway across the passage, I texted John Linton seeing if by any chance the next charterers had cancelled their trip that was due to commence in a couple of days but sadly not.
Back in the marina we met Mike on the fuel dock, topped up the boat with a measly $100 of fuel which for a boat trip over 7 days, running the generator a fair bit to charge the batteries, run the air conditioning during the day a few times, making coffee's with the Nespresso coffee machine, run the toaster and watching movies at night on the TV I was presently surprised to see we hardly used any fuel.
Now back into Portland Roads permanent berth, we packed up our belongings and decided to take advantage of the conveniently placed floating Ocean Club and its beautiful amenities block right next to us, have a nice hot shower and get prepared for our flight back to Brisbane. Even though the boat is an owner's version with a spacious cabin and head, I am sure everyone agrees you cannot beat a domestic shower.
With the dock trolley loaded up, we said farewell to the good ship "Portland Roads" and made our way to the car park to catch our ride to Proserpine Airport.
Reflecting on this trip, I can honestly say I have an amazing job! It was not completely a family holiday, but in some ways it was. I was able to introduce my family to the wonderful family of Lagoon owners who some I consider to be dear friends. Many of these wonderful people only hear stories of Kylie and Spencer, and during this trip, they got to see they are not a figment of a delusional boat salesman. The time spent after the Escapade was priceless and I would have to say it was the best holiday we have ever had!
We thank John Linton and his team at Portland Roads-Sailing the Whitsundays immensely for the great vessel he provided us. The 420 worked out perfectly but realistically anyone of the fleet would have been ideal since the entire fleet is all Lagoon Catamarans!!!
We look forward to doing this again very soon.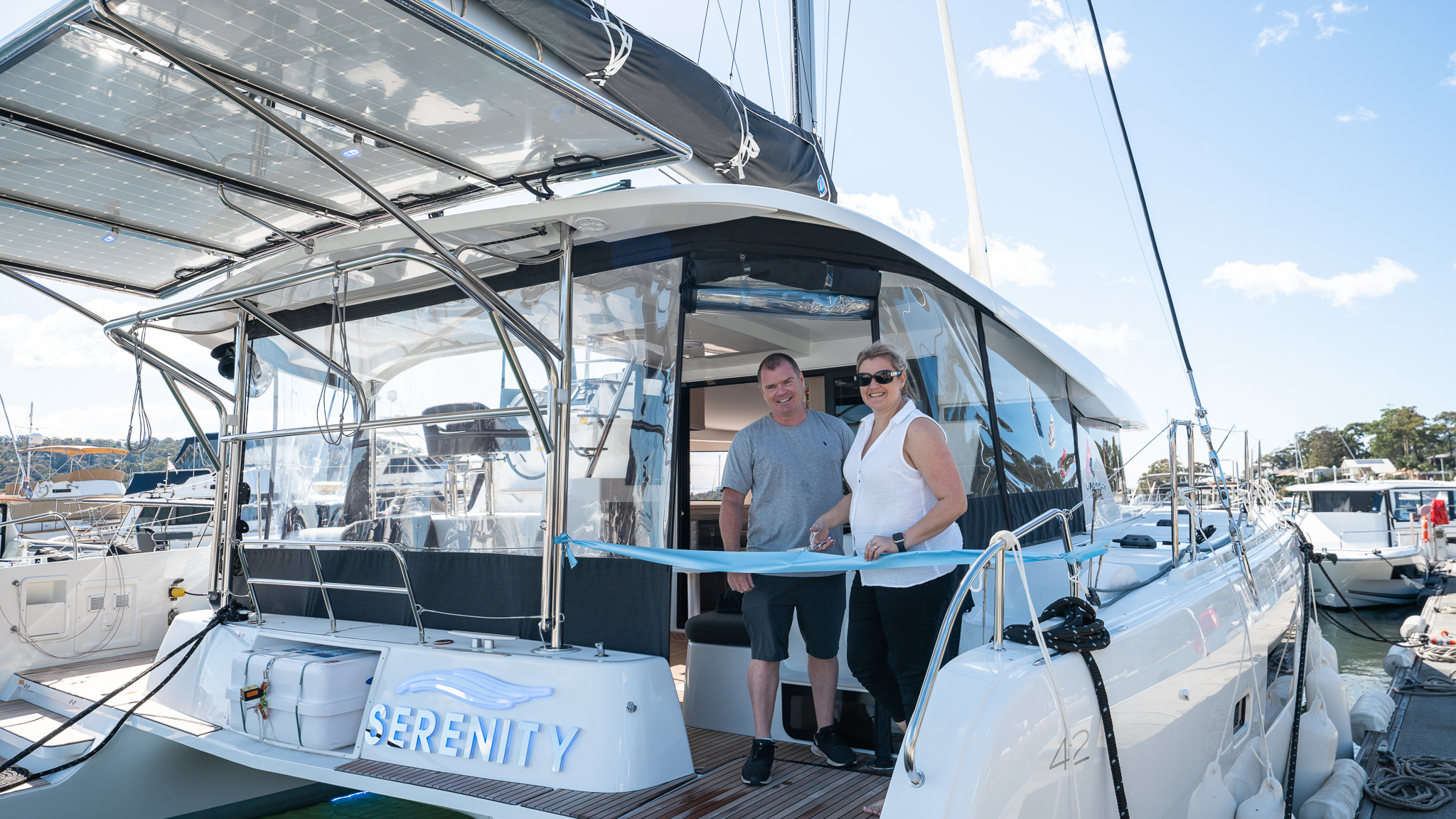 "We are very thankful to TMG for the amazing handover of our Lagoon 42. The whole process has been outstanding, from our initial sales with Joe Fox to the coordination of services by TMG's service partner VesselTec." – Vincent and Amanda, Lagoon 42.
read more