A fresh perspective on yachting
Elegant and sophisticated design and architecture.
The Greenline 45 is the newest member of the Greenline fleet and is now available in both a Fly and Coupe model. It is a faster hybrid yacht which offers the speed and propulsion you would expect from a luxury yacht. The power and manoeuvrability ensure this boat is a pleasure to drive.
The Greenline 45 features an extremely comfortable interior, with a full-beam midship owner cabin and VIP guest cabin in the bow. Both offer private bathrooms and walk-in wardrobes.
You will be blown away how comfortable and home-like a boat can be when you step aboard the Greenline 45.
The latest and most powerful of the Greenline range with a spacious cabin, stylish interiors, comfortable flybridge and silent eco-performance.
High-quality design and onboard livability with independence from marinas owing to a staggering 2.4KW solar panel system. Eco-friendly cruising at its best.




[wptb id="234391" not found ]
The gallery was not found!
Let us know what you are interested in and a member of our expert team will contact you shortly.
Greenline Yachts in Australia and New Zealand
 Eyachts is the exclusive dealer of Greenline Yachts in Australia and is proud to bring the world's first and only truly hybrid yacht to Australia. Leading the world in environmentally aware boating, Greenline Yachts fit into the key features sought by Eyachts in choosing our product range - eco-friendly boating. Importantly, superior design and engineering mean Greenline Yacht owners do not need to compromise on comfort or luxury. 
'We believe modern boaters are ready for the next step in the evolution of leisure boating and are becoming increasingly more aware that we are the only ones that can preserve the environment for our children and grandchildren to enjoy' - Vladamir Zinchenko - Owner & CEO
Greenline Yachts was established in 2008 and is principally about shaping the future of boat building in a responsible, environmentally way. Greenline Yachts offer electric and hybrid engines and are built using up to four times less fossil fuel than a planning powerboat in similar conditions. The clever battery system and standard solar power allow these boats to run with minimal environmental impact.
Greenline Yachts aims to deliver more comfort, greater ease of handling and more fun than any other boat in its class. The outstanding design adds a new dimension that allows you to savour the quietness of the water as you would on a sailing yacht without polluting your surroundings or the environment with exhaust, noise or wake.
Let us know what you are interested in and a member of our expert team will contact you shortly.
Sail Magazine – June 2021
Replete with living space, the boat presents an unmistakable profile, sporting a hardtop that shields the flybridge and helm station from the weather and makes for a tall, triple-stacked silhouette.
Multihulls World – 2021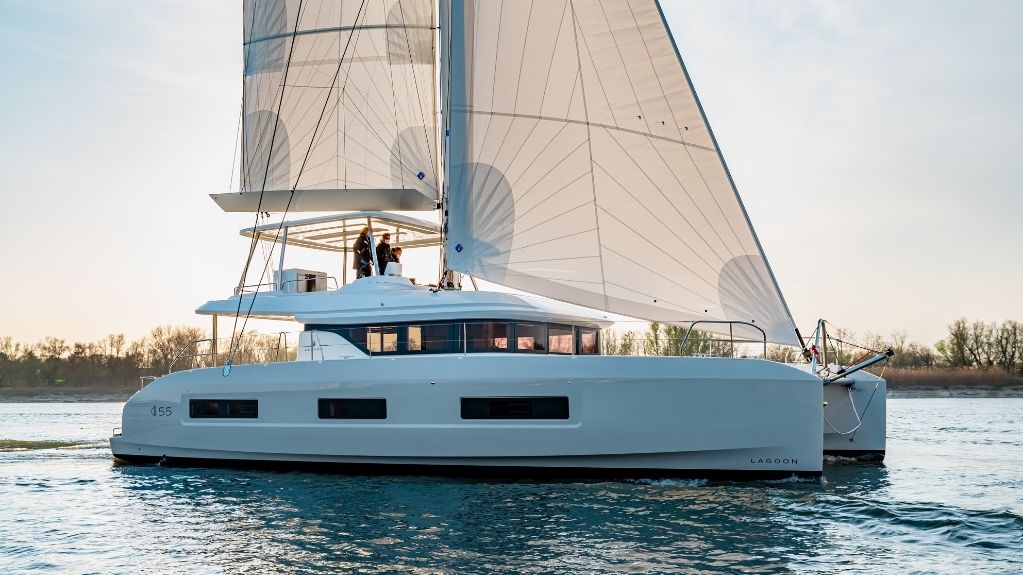 So much water has passed between the hulls since 1987! The very first Lagoon, with its aerodynamic coachroof, probably had less than half the volume of the new 55. But the latter weighs twice as much. However, the spectacular slenderness of the rig would suggest that Lagoon hasn't ignored the performance aspect.
Yacht Style – May 2021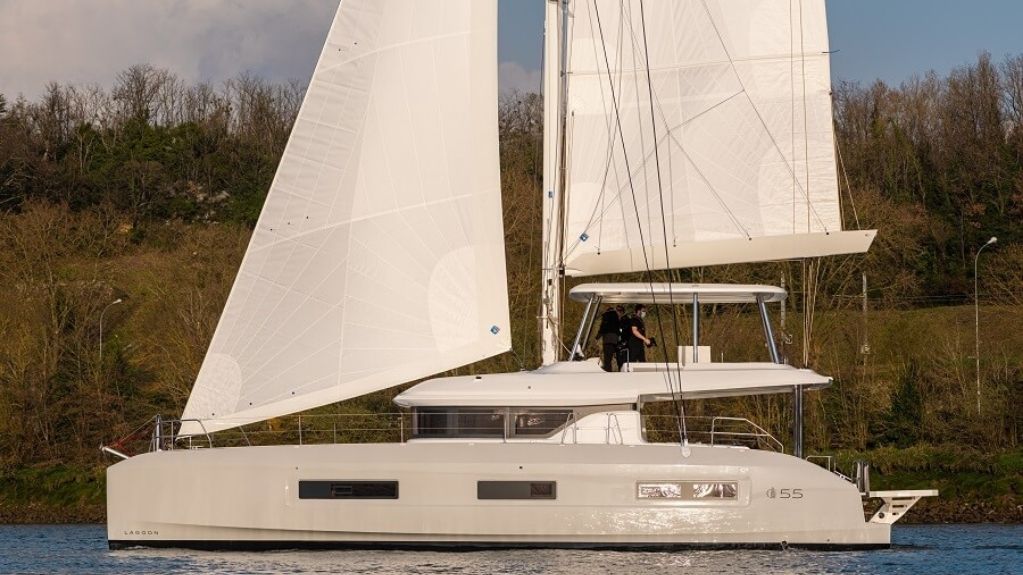 The volume of the 55 inside and outside is really amazing," Gailly says. "Together with the Premium Services we will offer, she's a logical link to our big four."