DRAGONFLY FIRST EXPERIENCE
First Experience onboard the Dragonfly 25
Marnie Ebeling talks about her first experience on a Dragonfly, for that matter a trimaran in general…
Let me paint you a picture here… Imagine a baby girl in a lifejacket doubly as wide as her body, sitting in the small cabin of an Elliot 7 while her parents refuse to let a new born child ruin their weekly twilight ritual. That bubba was me, at the ripe age of 2 weeks old. However, despite a life lived in the boating world, I'd never set foot on a yacht with 3 hulls… I'm not entirely sure what I was expecting but I was pleasantly surprised.
Stepping aboard the Dragonfly 25 in Double Bay, I instantly felt the security of the multiple hulls. Myself and captain, Joe Fox were able to quickly and simply prep the yacht for our departure and off we went. I was immediately given the helm as Joe hoisted the main and prepped the sails. As soon as we ducked out from the sheltered bay, the speed lifted and we began to fly, beyond the Sydney heads, towards Pittwater.
I've been offshore my fair share of times, but only ever on monohull cruising boats larger than 37 ft, so it's safe to say this was going to be a different kind of experience. As the 2 metre waves gravitated the boat I was shocked by the insane stability, typically I've been one to avoid offshore sailing as the constant rocking and rolling seems never-ending, but that frustration was non-existent on the Dragonfly and despite the small size I felt incredibly safe.
It was also my first time getting behind the tiller in an estimated 10 or so years. Something felt so natural about the movement and I immediately picked up the rhythm. I felt the yacht was easy to maneuverer and felt her whispering in my ear how she wanted to be handled… That may sound weird but when you really get going on a Dragonfly she will sing her beautiful Dragonfly hum when she's happy. Even if it's your first time on a boat I believe you'd be able to get behind the tiller and feel in control, working in collaboration with your vessel.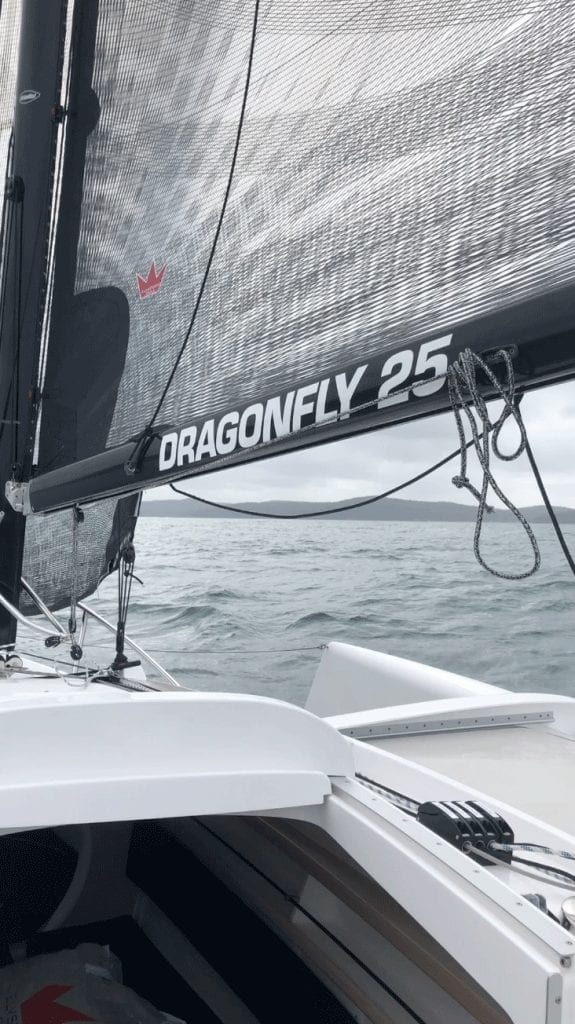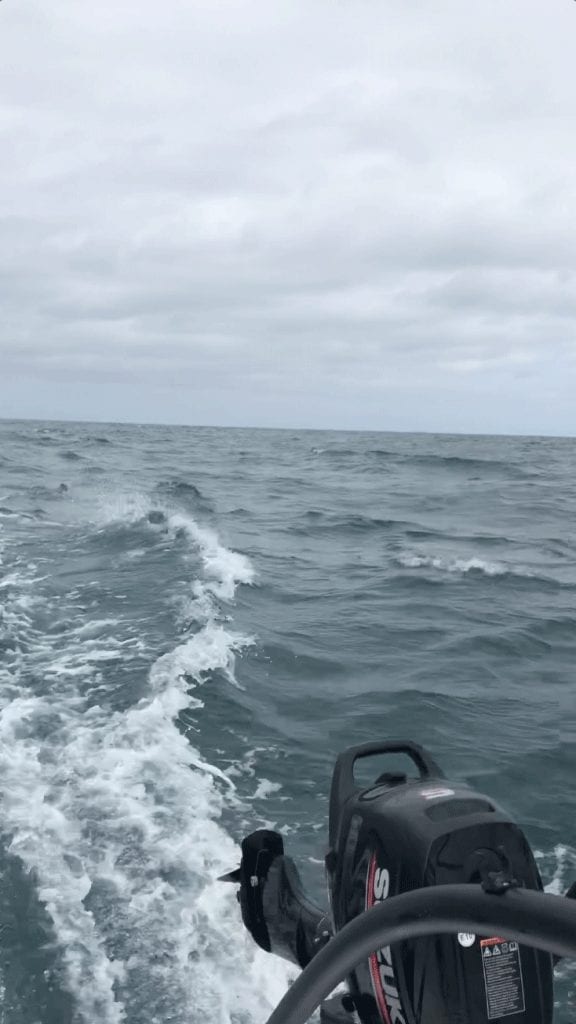 Another thing I noticed that was different about the trimaran was that even though the Dragonfly was only 25 ft and low to the water, it was extremely dry, protected by the trampolines while in the cockpit area. Despite being alone out to sea, Joe insisted we pop on the tiller extension and get out on the outrigger and although we might've got a little wet, I'm so glad we did. Sitting out on the side with the distant Barrenjoey headland targeted, I couldn't imagine anywhere I'd rather be. I thought to myself "this is real sailing isn't it".
Throughout the trip it very apparent that the vessel was extremely light and was able to glide without the keel dragging her back. With the waves drawing in behind us we were able to surf the waves all the way into Pittwater. Reaching of 12-15knots we had an average speed on 8.5kts and flew into Pittwater with a top speed of 16 kts. I can see why they call it a Dragonfly, when she takes off her wings lift off and there is such a real sailing thrill, it was almost impossible not to wipe my cheeky smile away the entire ride.
If you're looking for an extremely enjoyable day out on the water in a well-designed vessel to do some actual sailing, I highly recommend testing out the Dragonfly 25.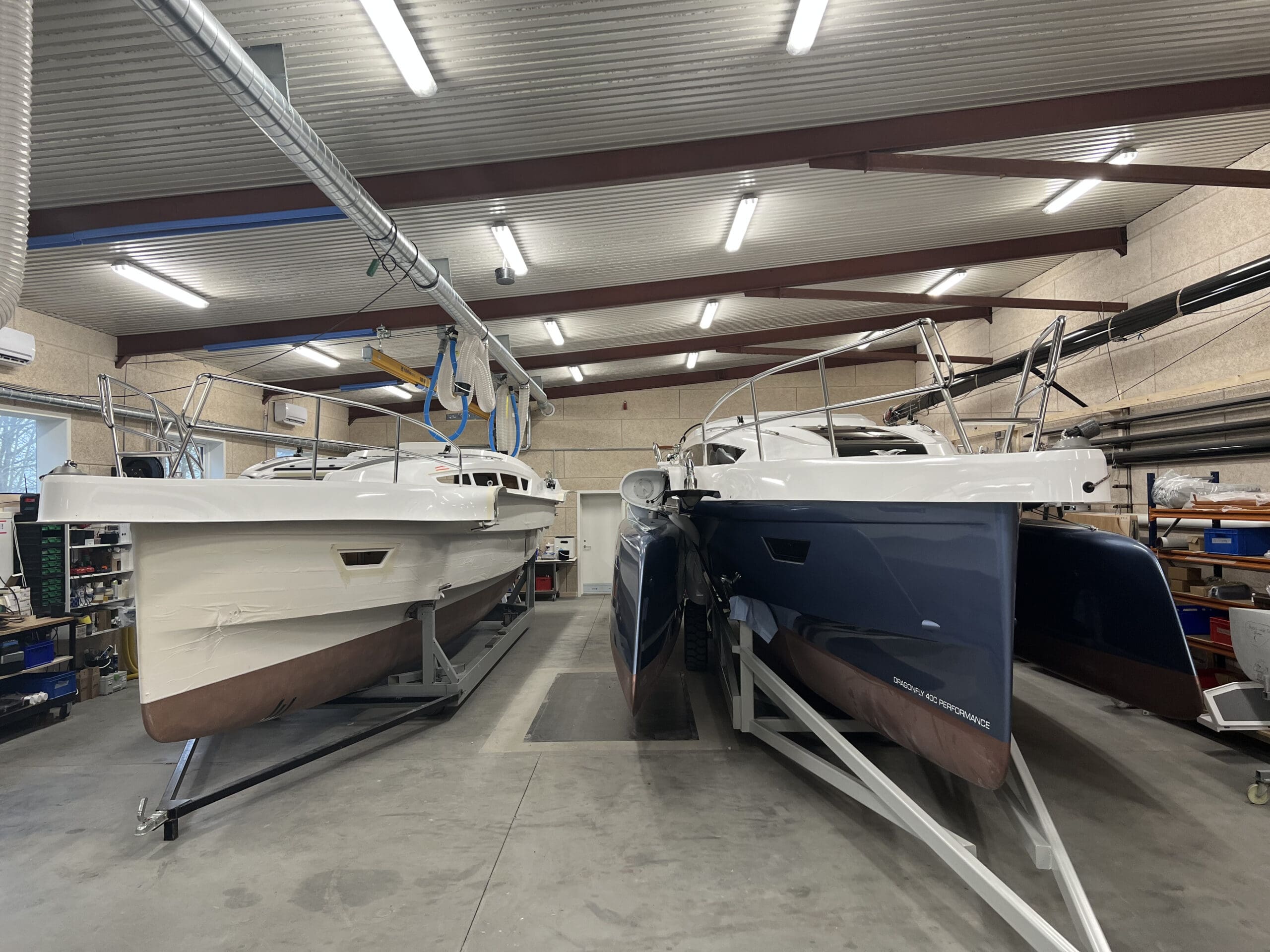 The team at Dragonfly Trimarans have been working hard and now the Dragonfly 40C is a reality.
The two first hulls in the new Dragonfly 40C range. Hull no 9 is almost finished and ready for trial. So, now we just have to wait for better weather conditions in Denmark for the launch and then test what she really can do.
read more